(ENG)
Born in Cagliari 1971. He starts his musical studies as a classical violinist at the Conservatory of Cagliari where he also attends the course Experimental Composition. After a few years he discovers the bass. He takes lessons with Dave Holland and with Attilio Zanchi.

In 1996 Manolo receives the degree 'High Qualification for Jazz Musicians' in Siena (directed by Furio Di Castri). He takes part in workshops of Marc Johnson, Miroslav Vitous and Palle Danielsson.

In Italy Manolo appears on various jazzfestivals at the side of; Enrico Rava, Roswell Rud, Maria Pia De Vito, Tino Tracanna, Roberto Cipelli ,Gianluca Corona, Augusto pirodda, Alessandro Diliberto, Massimo Ferra, etc...

In 1998 he moves in Holland where he plays with musicians like; Eric Vloeimans, Rob Madna, Ferdinand Povel, Marc Murphy,Jasper Blom, Ack Van Rooyen, Jesse van Ruller, Eric Inneke, Wim Bronnenberg, Wolfert Brederode, etc... .

For this project, the Manolo Cabras Quartet exists of 4 unique musicians that share their roots in the traditional jazz. Jean-Paul Estiévenart, Nicola Andrioli and Marek Patrman belong definitely to the finest of the Belgian actual jazz scene.

In Cabras' compositions his band is invited to a continuous research within the structure, a daring game where tradition is never far away but yet challenged and joyfully explored. This band resonates jazz strongly while remaining surprisingly fresh. Reminiscing Miles, Coltrane or Ornette in its concept of swing while revealing a large spectrum of colours through the expressive melodies of Manolo Cabras.
Jean-Paul Estiévenart (BE) *1; Trumpet
(Antoine Pierre Urbex, Mik Mâäk, Manu Hermia 5-tet)
Nicola Andrioli (IT) *2; Piano
(Philip Catherine 4tet, Mimi Verderame 5tet, Lorenzo di Maio Group, …)
Marek Patrman (CZ) *3; Drums and Percussion
(Erik Vermeulen Trio, Ben Sluijs 4tet, Free Desmyter 4tet, Marek Patrman Invasion)
Manolo Cabras (IT) *4; Double Bass
(Toots Thielemans 4tet, Ben Sluijs 4tet, Manuel Hermia Trio, Chris Joris 4tet, Frederik Desmyter 4tet ft. John Ruocco, Pierre Vaiana 4tet, Eve Bouvens Heptatomic, Erik Vermeulen Trio, Augusto Pirodda 4tet, Alexandra Grimal 4tet, Riccardo Luppi's Mure Mure, Sweet Cut, Bad courrency, Visioni Sonore, Skunk trio, Filippo castellazzi quartet, Triotonik, Malm, ...)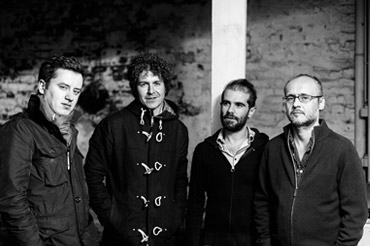 *1 Hyperlink: http://jeanpaulestievenart.com
*2 Hyperlink: http://andriol.wixsite.com/nicolaandrioli
*3 Hyperlink: http://www.jazzinbelgium.com/person/marek.patrman
*4 Hyperlink: https://manolocabras.com
pdf presskit for download coming soon
reviews
"Une musique empreinte d'une vraie personnalité."Claude Loxhay, Jazz'halo (BE)

"Stuk voor stuk mannen die passen bij datgene wat Cabras voor ogen had: spelen om te voelen en af toe zelfs om te vliegen." Dirk Roels, Jazzmozaïek (BE) ***** keuze van de redacteur

"ces quatre musiciens cherchent de nouveaux itinéraires, de nouvelles structures, de nouvelles formes. Mais cette quête n'est pas intellectuelle, elle est fraîche et joyeuse .." Jean Claude Vantroyen, Le Soir (BE) ****

"Het zijn van die solo's die je als luisteraar meeslepen, haast ongemerkt optillen en je enkele ogenblikken later in een andere hoek van de kamer neerzetten." Joachim Ceulemans, Enola.be (BE)