(ENG)
Moker (Flemish for sledgehammer) is a Belgian-Italian jazz collective and it's musicians are jazzfanatics to the bone. All of them are active in the Belgian-mondial music scene and well recognized for their work. They have a reputation for their energetic and convincing performances with a set of original compositions and improvisations.

Their music roots entirely into jazz, with focusses on free improvisation and songwriting. Moker tries to tell a story through it's songs, but as in all good stories some roads don't keep up straight.
This results in a dynamic set, filled with contrasts and moods which merge together or switch over to one another. Offering the listener a ride on their wide musical trip.

Moker was formed in October 2000 by the impulse of Mathias Van de Wiele (guitarist-composer). They aimed to create a group that could function as a laboratory in which the musicians could experiment with own compositions as well as open improvisational structures. This way of seeing things or working together still lives untill today. They consider their research process as an essential part of the game. So not only the final product is important, but also the work in progress.

For fifteen years now Moker has been creating adventurous jazz and impro whilst the "hammer" still stands as a symbol of the creative force of its five musical blacksmiths. Here's their fifth album: Ladder !!! Ladder incorporates the full spectrum of musical luggage and language which this band managed to collect on its path and it's the result of a working process in which Moker tried, once more, to stay off the beaten tracks... The way the music was concipiated, from the recording process to the chosen instrumentarium all resulted in a caleidoscopic, though entirely authentic and characteristic sound, full of references to timeless and inspiring musical heroes. Esthetically their journey passes through all kinds of spaces and sub-genres: 70's psychedelica, jazz, krautrock and afro as well as acoustic songs, minimal music, fanfaresque and electronic scapes.
Mathias Van de Wiele (BE) *1; Guitars and Altho Horn
(Wheels, Yelemani Trio, Chopstick)
Bart Maris (BE) *2; Trumpet and Electronics
(Flat Earth Society, Edward Perraud, Victor Toth, 1000, Doctor John, ...)
Jordi Grognard (FR) *3; Tenor Saxophone, Reeds and Bansuri
(Oba Loba, Yokaï, …)
Lieven Van Pee (BE) *4; Selected Basses and Electronics
(De Beren Gieren, John Ghost, Sarah Dhondt, Wasserbauer)
Giovanni Barcella (IT) *5; Selected Drums and Cymbals
(Jeroen Van Herzeele 4tet, Yelemani Trio, Moker & in different formations with Marshall Allen, Arthur Doyle, Bobby Few, J.J. Avenel)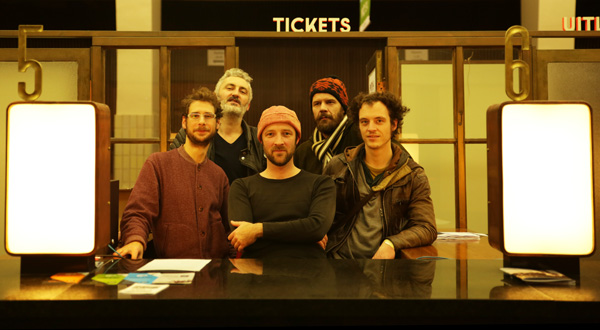 photo by Dagmar Duportail
*1 Hyperlink: http://www.chopstick.be/vzw/en
*2 Hyperlink: https://en.wikipedia.org/wiki/Bart_Maris
*3 Hyperlink: http://www.jordigrognard.com
*4 Hyperlink: http://www.lievenvanpee.be
*5 Hyperlink: http://www.muziekcentrum.be/identity.php?ID=135633

pdf presskit for download coming soon
reviews
"Ladder combines electro-acoustic passages with rustic folk, resulting in a rock-infused sound with raw power. The threat of heartbreak looms heavily. Ambient drones come to life in brief, melodic fragments. This is the band's fifth album, and their wild imagination shows no hint of leveling off."Dave Sumner, Best of Bandcamp Jazz: September 2016 (US)

" Les seize morceaux de cet album forment les étapes d'un voyage inattendu et d'une exploration passionnante."Jean Claude Vantroyen, Le Soir (BE)

"Alle elementen maken van 'Ladder' weer een feestelijke plaat die geen moment verveelt." Herman Ter Loo, Jazzflits (NL)

"Met meer dan vijftien jaar en intussen vijf langspelers op de teller, mag Moker gerust beschouwd worden als een vaste waarde binnen de Belgische jazz, een band die ondanks vrij zeldzame concerten toch z'n eigen hoekje opgeëist heeft. Bij elke plaat wordt opnieuw gezegd dat het eigenlijk wel eens tijd wordt dat de band een groter publiek verdient en dat zal nu niet anders zijn, want op Ladder, ongetwijfeld de meest gevarieerde plaat tot nog toe, klinkt Moker urgenter dan ooit." Guy Peters, Enola.be (BE)