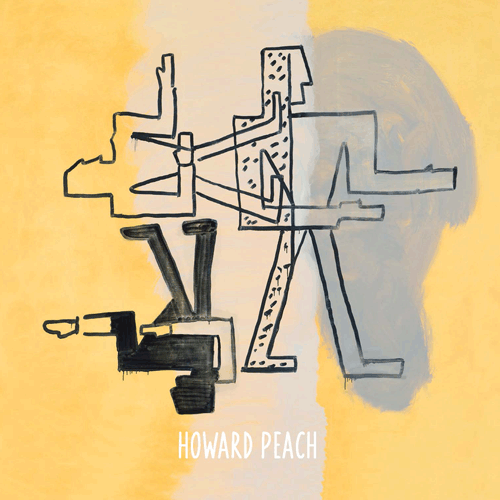 Chris Speed - tenor saxophone
Simon Jermyn - electric bass
Lander Gyselinck - drums



Recording: Amandine Pras & Nic Pitman at NYU, New York, US in december 2013
Mixing & Mastering: Vincent De Bast at Sonar Studios
Production: Lander Gyselinck
Original Art on Cover: "Egyptiens" by Water Swennen
Design & Lay-out: Annika Jermyn
el NEGOCITO Records / De W.E.R.F.
Available on CD and Vinyl
release December 19, 2014 at Glimpse Festival Ghent, Belgium
(ENG)
Howard Peach finds its origin in New York, where Belgian drummer Lander Gyselinck (STUFF., LABtrio, Ragini Trio, Kris Defoort Trio, …) lived and studied for some time. He met numerous musical soul mates in the contemporary jazz scene.

Besides taking part in these NY sessions and jams, Lander co-founded a brand new trio, with young Irish hidden treasure bassist Simon Jermyn (Large Detective, Pete Robbins Transatlantic Quartet, Jim Black, Tony Malaby) and renowned saxophonist and composer Chris Speed (The Claudia Quintet, Endangered Blood, AlasnoAxis, Craig Taborn and Dave King). At the end of 2013, after several live sessions they decided to spend some time in the NYU studios and record this self-titled debut. Their busy tour schedules forced them to put the music on ice, but with this release and the associated tour they pick up the threads where they began. After their release tour in Belgium the music has became even stronger.

Although the repertoire is made up of pure improvisation, the music sounds like a coherent whole and the album can be considered one long suite. Free moments alternate with pieces that sound like composed music, betraying the tremendously high quality of these three solid improvisers.
(NL)
Drummer, Lander Gyselinck (1987°) is geen onbekende in de Belgische geïmproviseerde muziekscene. Een muzikale spons die zich graag in de meest diverse muzikale flora en fauna begeeft, van bands zoals STUFF. en Sinister Sister tot jazz en impro bij LABtrio en Kris Defoort trio. Zijn inspiratie haalt hij onder meer uit de periode waar hij in New York vertoefde en er verschillende muziekscenes opzocht.

Howard Peach ontsproot daar en belichaamt die schizofrenie met improvisaties en eigen stukken. Dit New Yorks trio is gezegend met de fenomenale klank van Chris Speed, tenorsax en klarinet, een erkend muzikant en componist uit de New Yorkse avant-garde scene, de man achter Skirl Records, en te zien in bands zoals The Claudia Quintet, Endangered Blood, AlasnoAxis, Craig Taborn and Dave King.
Simon Jermyn, een hidden treasure op elektrische bas, afkomstig uit Dublin, is een van dé opkomende jonge artiesten in Brooklyn, die in talrijke formaties speelt zoals Large Detective (Kirk Knuffke, Curtis Hasselbring and Vinnie Sperazza), het Pete Robbins Transatlantic Quartet, regelmatig optreedt met Jim Black, Tony Malaby...

Lander brengt deze 2 heren over van New York op deze gelijknamige debuutplaats.
Press
"This group has a surprising, present-day sound, which offers enough challenges to the listener to make further releases a very enticing prospect." Phil Freeman, The New York City Jazz Record (issue december 2015 p. 26)
"een nieuw Belgisch trio dat met haar debuut meteen een van de friste platen van het jaar heeft afgeleverd." Mischa Andriessen, Trouw (28/08/2015) ****
"C'est souvent étrange et étranger. C'est en tout cas fort beau." Jean Claude Vantroyen, Le Soir Mad (15/07/2015) ***
"Howard Peach bewijst eens te meer de grote veelzijdigheid van Lander Gyselinck" Peter De Backer, Jazzmozaiek p. 49 (2015/2) ***
1. Lausanne
C. Speed / S. Jermyn / L. Gyselinck - 09:52
2. Unfortunate Vivisepulture
C. Speed / S. Jermyn / L. Gyselinck - 03:48
3. Hidden Word
S. Jermyn - 07:17
4. Chris The Crafty Cockney
C. Speed / S. Jermyn / L. Gyselinck - 05:14
5. Sycamore Sea
C. Speed / S. Jermyn / L. Gyselinck - 03:59
6. Atlantis 1987
C. Speed / S. Jermyn / L. Gyselinck - 03:49
total time 33:51
eNR028 © 2015
Buy CD
Buy Vinyl + download