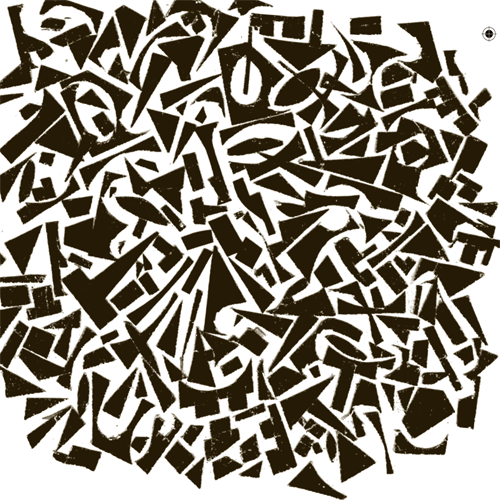 eNR054: Getting Lost in Tiny Spaces by GLiTS
Georges Tonla Briquet, Jazzenzo (08/01/2018)
"Trompettist Bart Maris en pianist Peter Vandenberghe trekken al jaren samen op als leden van Flat Earth Society en voordien van X-Legged Sally. Voor deze 'Getting Lost In Tiny Spaces' kozen ze onder de naam GLiTS de duo-formule. Actie en spanning zijn er niet minder om.

De hoestekeningen van Bart Maris in pure zwart-wit Masereel-stijl, duiden meteen aan waar de inhoud om draait. Een verzameling muzieknoten geordend volgens semi-kubistische principes. In totaal dertien kleine vakjes waarbinnen telkens een kort verhaal verteld wordt. De meeste zijn van de hand van Maris, een aantal schreven ze samen maar uiteindelijk mondt alles steeds uit in een dynamische aanwending van (stukjes) improvisatie.

Maris en Vandenberghe steken van wal in hyper intensieve overdrive. Afwisselend zijn ze bestuurder en medebestuurder. Er wordt nooit overgeschakeld op automatische piloot. Het duo heeft duidelijk een plan en een uitgestippelde reisroute. Het geluidsdecor waar ze doorheen flitsen, zit propvol contrasten. Hoge trompettonen ruimen plaats voor donkere pianoriedels. Kinetische stukken vloeien over in minimalistische passages. Een van de hoogtepunten is 'Tiny Space' dat langzaam uit het niets opduikt om slechts noot voor noot geheimen prijs te geven en dan toch uiteindelijk met een open einde af te sluiten. Ook het spiritueel getinte 'GOI' blijft na elke beluistering fascineren.

Extra verrassend wordt het als je de cd at random gaat luisteren. Een schijfje dat perfect past in de eclectische catalogus van el NEGOCITO."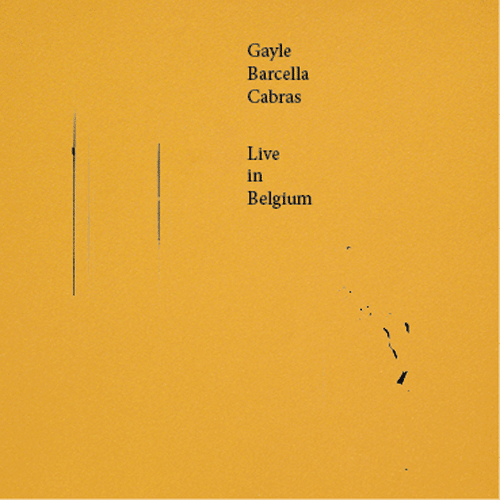 eNR062: Live in Belgium by Gayle Barcella Cabras
Mark Corroto, All About Jazz (04/01/2018) ****
"Picking up any recording by the saxophonist (sometimes pianist) Charles Gayle always reminds me of the quote by actress Bette Davis' from the the film All About Eve (1950). After downing her martini in one gulp, Davis walks away, turns, and announces "fasten your seatbelts, it's going to be a bumpy ride." Not bumpy as in uneven or rutted here, but strident and earth-shaking music. Live In Belgium is no exception to that narrative.

By now, the story of Gayle is well known. Homeless and playing his saxophone on the streets of New York for twenty years, his explosion onto the music scene in the later 1980s coincided with the DIY Downtown movement at the Knitting Factory and the discovery of free jazz by punk rock fans, including Henry Rollins. Funny thing about Gayle is, he has never abandoned his principles or debased his music. His edge remains razor sharp. This recording was made during a tour with Belgium-based Italian musicians Manolo Cabras and Giovani Barcella, both worthy complements to Gayle's approach.

Opening with the fiery improvisation "Chiaro Sguardo," the trio attempts to catch lightning in a bottle or are they just burning off any residue and chasing the nonbelievers from the club? Maybe, but that is just a gross oversimplification. Gayle, like brother Albert Ayler before, has a way of raising intensity by stripping music down to its essence. "Di Piccola Taglia" trickles then pours energy music over the crowd as a ritual of emptying. The piece finishes with Barcella's drum solo and the next track is a solo piece from Cabras' bass. It is quite obvious these three have created a mutual trust and friendship as the camaraderie is perceptible. The trio doesn't so much cover John Coltrane's "Giant Steps" on "Steps," as recontextualize it within the free jazz realm. He has taken on the classic composition on three previous recordings, and like those outings, he liberates Trane's technical exercise from its moorings to launch the music into the stratosphere. Like Anthony Braxton, Gayle sets his saxophone down to play piano. On "Dimmi" he explicates his musical theory by way of a more straightforward 88 keys. The passion remains here, and his technique is more expressive than Braxton."