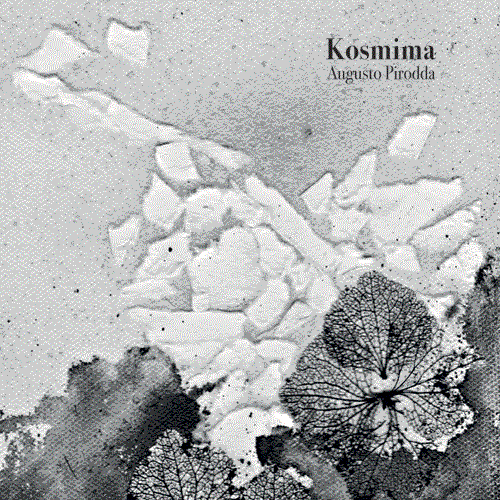 eNR081: Kosmima by Augusto Pirodda
Ferdinand Dupuis-Panther, Jazz'Halo (20/07/2018)
Solokonzerte und -alben und Jazz – wie geht das zusammen? Fehlt es da nicht am Interaktiven, an der Befruchtung durch Mitspieler, an zirkulierenden Solos und Improvisationen? Gewiss, die Interaktion ist bei einem Pianisten wie Augusto Pirodda nur eingeschränkt möglich, nämlich zwischen der linken und der rechten Hand. Zudem sind die Klangfarben stark reduziert. Wo bleibt das rhythmische Element, wo das melodische? Wie verhält es sich mit der Basslinie? Nun ja, es gibt ja auch basslose Trios, sodass das nicht so sehr das Problem sein dürfte. Doch lassen wir uns einfach auf Pirodda ein und sehen, in welcher Weise er sein Tasteninstrument ins Spiel einbringt.

Bis auf "Between" und "Crystal Waltz" stammen alle anderen Kompositionen wie "Kosmima", "Jompro", "Brootprints", "Alter Ego", "Bollad" und "Bass Thing" aus der Feder von Augusto Pirodda.

Im Pressetext zum Album lesen wir: "Augusto Pirodda plays solo, to the rhythm of his piano, and makes this intensely poetic and fascinating journey. He constantly searches for new ideas, avoids stereotypes and stylistic barriers. Like a tightrope walker, he moves effortlessly between jazz and free improvisation. Augusto Pirodda is known from his trio with Gary Peacock and Paul Motian and his quartet with Ben Sluijs, Marek Patrman and Manolo Cabras." Mit Letzterem hat der aus Italien gebürtige, nunmehr in Brüssel und den Niederlanden lebende Pirodda zusammen den Titel "Between" komponiert.

Langsam, wie ein Rinnsal fließend, kommt "Kosmima" daher. Hier und da muss ein kleines Hindernis umschifft werden, so der Eindruck. Ein Blatt fällt ins Wasser und Kreise bilden sich auf der Oberfläche – so ein mögliches anderes Bild im Kopf, wenn man den Melodielinien folgt. Stark im Bass ruht "Jmpro", eine Komposition, die zudem von Behäbigkeit geprägt ist und sich nach und nach aus der Bassverharrung löst, um nachfolgend wieder in den Basslauf zurückzugleiten. Entgegen der Erwartung, dass es eine ausgeprägte Interaktion zwischen linker und rechter Hand gibt, dass es starke Akzente zwischen beiden Händen gibt, ein "kontrapunktisches Agieren", ist das bei diesem Stück nicht der Fall, eher schon bei "Brootprints". In diesem Stück hinterlässt Pirodda nachhaltige Fußspuren, eher schon Stiefelabsätze.

Verspielt zeigt sich "Alter Ego". Dabei tanzt die eine Linie über der anderen. Es kommt zu einer Art klangbildlicher Helix. Auffallend und nachhaltig im Gedächtnis haften bleibt die sehr starke Basshand, die ihre Dominanz nur selten aufgibt. Wie mag wohl ein dunkles Vorspiel klingen, siehe "Dark Prelude"? Gar nicht so, wie erwartet. Verhalten und zögerlich entwickelt sich das Stück; so, als wolle der Komponist herbstliche Nebelbänke einfangen, klingt das, was er uns zu Gehör bringt. Zugleich hat man den Eindruck, das Zurren des Windes an den kahlen Baumästen werde als Klangbild expressiv gezeichnet. Zudem meint man, einigen durch den Regen stapfenden Menschen zu begegnen, die sich dann schließlich rasch davonmachen. Nein, im Diskant verliert sich der "Crystal Waltz" nicht, und auch von Walzer ist nicht zu merken. Mit "Between" beschließt Pirodda sein Soloprojekt und taucht dabei tief in die Basslinien ein, die er allerdings kurzzeitig auch aufzulösen versteht.

Um auf die Anfangsfragen zurückzukehren: Es fehlt schon am Interaktiven, an dem Zipp und Zapp, das bei Trios und Quartetts möglich ist. Die Beschränkung auf das Piano setzt halt starre Grenzen, wenn man das Piano nicht präpariert oder durch Elektronik manipuliert, was Pirodda allerdings unterlässt.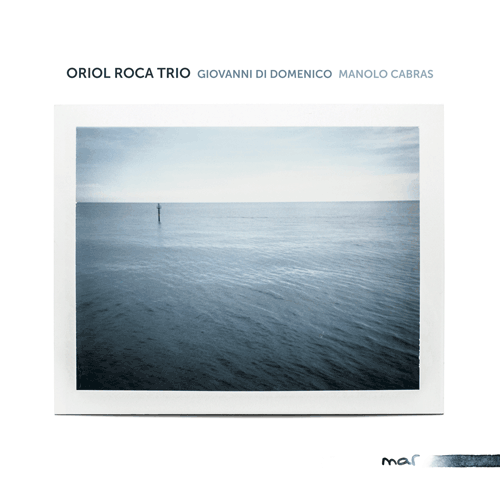 eNR067: Mar by Oriol Roca Trio
Georges Tonla Briquet, Jazz'Halo (16/07/2018)
De concertactiviteiten in de Brusselse Studio Grez mogen dan op een laag pitje branden, af en toe worden er gelukkig nog opnamen gemaakt zoals deze 'Mar' van een trio rond de Spaanse (Catalonië) drummer Oriol Roca (drums) en twee vaste Italiaanse waarden met vaste stek in Brussel, Giovanni Di Domenico (piano) en Manolo Cabras (contrabas). Meteen drie protagonisten uit de Europese improvisatiescene.

Roca schreef vijf nummers terwijl zijn twee medemuzikanten eveneens elk een inbreng leverden. Je luistert naar een aaneenschakeling van mijmeringen waarbij de drie heel ingetogen en poëtisch te werk gaan. De magnetiserende en uiterst minimalistische werkwijze leidt tot een haast mystieke luisterbeleving waarbij elk gevoel van tijd en ruimte verdwijnt.

Verrassende luistertrip.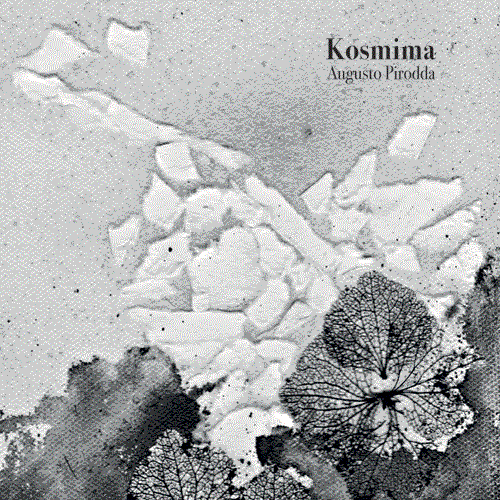 eNR081: Kosmima by Augusto Pirodda
Georges Tonla Briquet, Jazz'Halo (16/07/2018)
De Brussels-Italiaanse pianist bracht al een eerste soloplaat uit in 2007 ('Moving'). Voor de tweede keer trok hij een studio in om zonder begeleiders een opname te maken. Daartussen waren er wel een aantal releases in kwartet evenals de trio-cd met Gary Peacock en Paul Motian ('No Comment').

'Kosmima' bevat veertien muzikale polaroids, hoofdzakelijk badend in vale tinten. Opvallend hoe hij soms heel beredeneerd en haast in slow motion de linkerhand aanwendt om subtiele accenten te leggen zonder uit te monden in ritmisch geweld. In schril contrast met al de rest is er 'Thrilling', meteen de gepaste titel bij het meest spannende moment.

Soundtrack voor een poging tot onthaasting.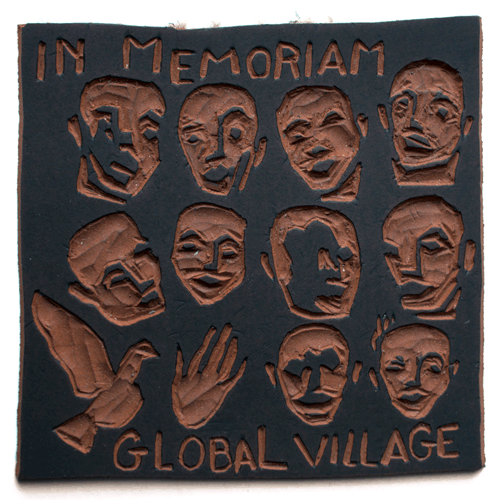 eNR069: in memoriam global village by Gunda Gottschalk, Xu Feng Xia & Peter Jacquemyn
Georges Tonla Briquet, Jazz'Halo (04/07/2018)
Voor wie zich eens wil wagen in de Bermuda driehoek gevormd door hedendaags klassiek, Chinese avant-garde en improvisatie met een punkrandje, tippen we op deze opname. Drie snarenspelers elk met hun instrument (viool, ghuzeng, contrabas) zoeken toenadering vanuit verschillende invalshoeken. Er ontspint zich een wirwar van denkpistes maar als echte sjamanen weten de drie steeds een remedie te vinden. Onwillekeurig duiken beelden op uit de film 'Die Blechtrommel'. Om maar te zeggen dat dit zeker niet de soundtrack is van een onderhoudende gezinskomedie.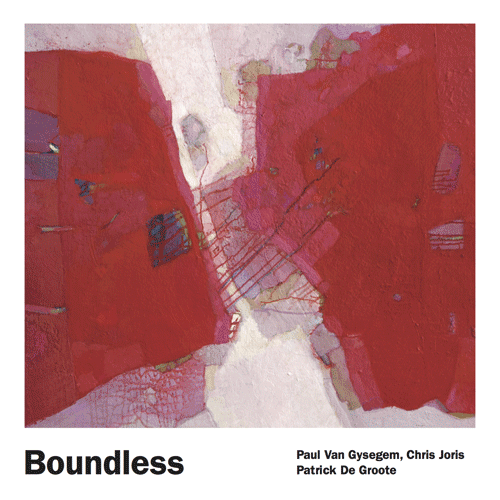 eNR065: Boundless by Patrick De Groote / Chris Joris / Paul Van Gysegem
Georges Tonla Briquet, jazzenzo jazzmagazine (27/06/2018)
Nu de Parijse studentenrevolte van mei 1968, die voor een culturele omwenteling zorgde, na vijftig jaar weer in de culturele actualiteit staat, krijgt de Vlaamse contrabassist en beeldend kunstenaar Paul Van Gysegem hopelijk opnieuw wat meer aandacht. Met twee uitgaven die wat onder de radar bleven, is daar alle reden voor.

Van Gysegem was er bij sinds begin jaren zestig. De nieuwe stromingen, avant-garde, free jazz en performances, hij stond telkens op de eerste rij. Een halve eeuw later blijkt hij nog steeds genoeg ideeën te hebben.

Voor 'Boundless' trok hij binnen een jaar drie dagen de studio in samen met percussionist Chris Joris en compagnon van het eerste uur trompettist Patrick De Groote, om vier trio-stukken en vijf duo's in te blikken. Afhankelijk van de data is Joris te horen op drums, percussie, ngoma handtrom en zelfs piano terwijl De Groote het houdt bij trompet en flugelhorn. Van Gysegem blijft trouw aan zijn contrabas.

Echt voorbereidend werk was er niet. Wel hadden de drie hun bagage van jarenlange ervaring als improviserende muzikanten. De negen nummers noemen ze dan ook geen composities maar 'instantaneous improvisation'. "Een wonderbaarlijke reis, tegendraads, terwijl duizenden klankflarden de hemel vullen met nieuwe geluiden, tekens en eeuwige gebaren," aldus Van Gysegem.

Het zijn verhalen die je als luisteraar het beste zelf ontdekt. Afhankelijk van je achtergrond duiken beelden en percepties op. De zacht zoemende geluiden, de krachtige stroomstoten, de alliteratie van noten, de korte solomomenten, de chaotische climax, het zijn aanleidingen om je fantasie te stimuleren. Een handleiding krijg je niet van deze heren. Het is genieten, elk op zijn eigen manier.

Je kan het ook vergelijken met een hoorspel waarbij de drie hoofdpersonages afwisselend overleggen, filosoferen, met elkaar in de clinch gaan om uiteindelijk toch steeds tot een vergelijk te komen. Imponerend hoe ze telkens weer samen convergeren naar eenzelfde punt.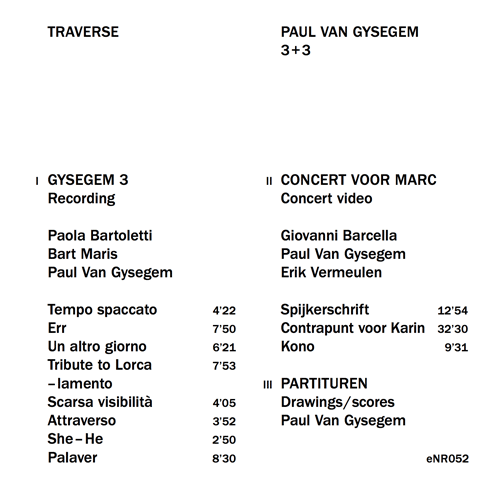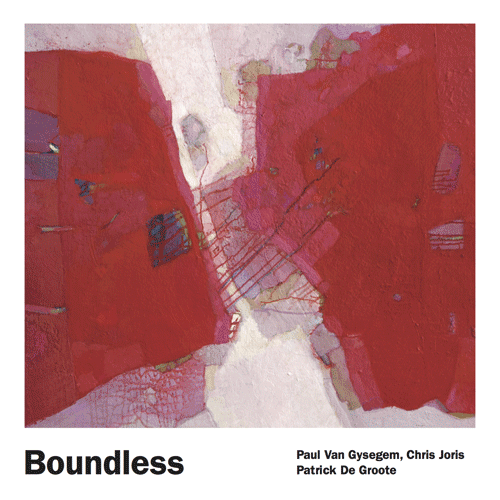 eNR052: Traverse by Paul Van Gysegem 3 + 3
eNR065: Boundless by Patrick De Groote / Chris Joris / Paul Van Gysegem
Peter Van Laarhoven, United Mutations (24/06/2018)
Two years ago, the Belgian Negocito record label released two trio concerts by artist, painter, sculptor, double bass player Paul Van Gysegem. Actually, it was one album that consisted of one CD (Paola Bartoletti, Bart Maris and Paul Van Gysegem) and one DVD (video recording with Giovanni Barcella, Eric Vermeulen and Paul Van Gysegem). Two beautiful concerts in one package.

Last year, Negocito Records added another fine release to Paul Van Gysegem's discography. This time, the ensemble is made up of percussionist Chris Joris, trumpet player Patrick De Groote and Paul Van Gysegem on double bass. All three musicians are well-known in the Belgian free jazz / improvised music scene. Paul De Groote even played with Paul Van Gysegem on his "Aorta" album in 1971 !!

For "Boundless", the trio got together for three separate days. One in November 2015, one in May 2016 and one in August 2016. The result is an impressive, energetic album on which the musicians explore and communicate. Boundless, if I may say so.

Recommended listening.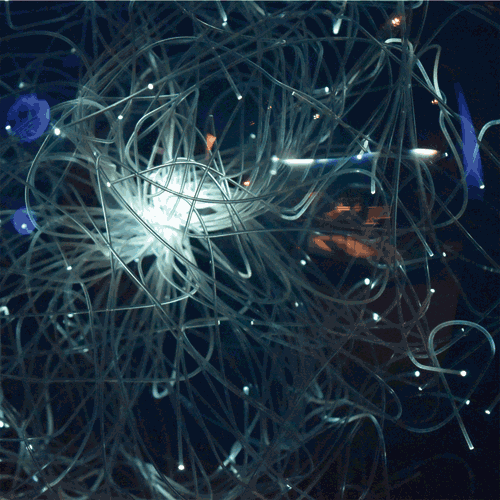 eNR064: The Ear Cannot Be Filled With Hearing by Giovanni Di Domenico & Abschattungen
Georges Tonla Briquet, Jazz'Halo (26/04/2018)
De ene bigband is de andere niet maar de shapeshifters van Giovanni Di Domenico & Abschattungen vormen echt wel een buitenbeentje.

Toetsenist Giovanni Di Domenico is een van de spilfiguren uit de alternatieve improvisatiescene in Brussel. Hij is tevens een all round muzikant en producer en heeft zijn eigen label, Silent Water. In 2017 was hij gelinkt aan zomaar liefst negen releases met als meest opmerkelijke zijn soloplaat 'Insalata Statica'.

Wat 'The Ear Cannot Be Filled With Hearing' betreft, stond hij in voor productie, opname, mixing, hoesfoto en leverde hij alle composities (vier in totaal, twee langs elke plaatkant).

Kant A begint met 'Infra-Thin' (12'43). Uit de nevelen van het fifties sciencefiction decor duiken langzaam piano- en drumklanken op waarna een mini big bang in slow motion ontstaat. Laag na laag wordt een andere dimensie opgebouwd.

'Tugkanon & Lekton' (8'03) is van een andere planeet. Poëtische pianonoten met aansluitend intimistische trompetklanken leiden geleidelijk aan tot een cocon van stilte die heel subtiel doorbroken wordt door allerlei kleine (wah wah)effecten. Het lijkt een spel van losse pionnen die zich willekeurig verplaatsen maar elkeen houdt zich duidelijk aan welbepaalde spelregels. Frontale confrontaties worden vermeden, het is vooral een techniek van steeds verder uitdiepen en aftasten.

Op Kant B is 'Instruments Of Darkness' (9'41) de eerste titel. Een licht psychedelische groove vervliegt na zowat een halve minuut en de luisteraar belandt opnieuw in een wereld van spielereien en bizarre kronkels. De piano levert een kort interludium waarna het puzzelwerk verdergezet wordt.

Alles eindigt met 'Apophenia' (10'58) in een rustig Oosters sfeertje met wat vocalen en dwarrelende pianonoten. Om uiteindelijk te belanden bij een gelijkaardige chaos van het begin.

Di Domenico deed wat Ellington ooit zei: "Een goede compositie begint bij de keuze van de juiste muzikanten." Met onder meer Laurent Blondiau, Daniele Martini, Giotis Damianidis en Jordi Grognard koos hij dan ook topmuzikanten uit de Brusselse scene.

Waaronder klasseer je nu dit alles? Metafysisch gestructureerde freejazz met een knipoog naar zowel Pink Floyd als Frank Zappa? Of een fascinerende "loop" al even complex en buitengewoon als deze waar de kinderen van Miss Peregrine in ronddolen? Ideale soundtrack dus om er de trilogie van Ransom Riggs ('Miss Peregrine's Home For Peculiar Children') bij te lezen. Zeker ook voor fans van Miles zijn 'Bitches Brew' (de vierdelige cd-box). Kortom, "mood music" boordevol modulaire wendingen. Di Domenico zelf citeert graag 'Lanquidity' van Sun Ra en het Italiaanse collectief Gruppo di Improvvisazione di Nuova Consonanza als inspiratiebronnen.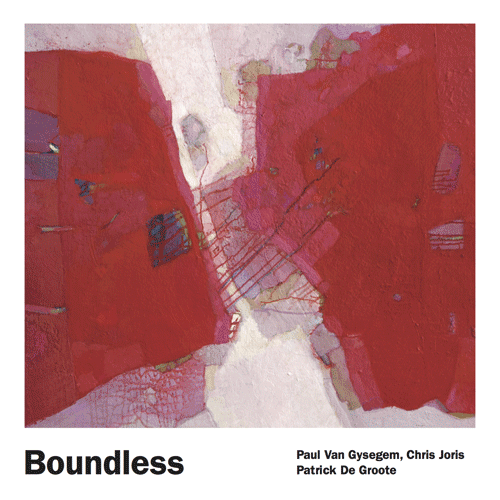 eNR065: Boundless by Patrick De Groote / Chris Joris / Paul Van Gysegem
Bernhard Oskar, Spielhaltungen, angespielt #001 (28/03/2018)
Gemein mit anderen Prozessen sozialer Interaktion ist der Dynamik der freien Gruppenimprovisation die Anlage, infolge fehlenden gemeinsamen Vokabulars und divergenter Persönlichkeitsmerkmale zu ausweglosen Spannungen und voneinander getrennten Sphären, anstatt zu einem homogenen Ganzen und musikalischem Einvernehmen zu führen. Wenngleich unauflösbare Konflikte zweifelsfrei in außerordentlich reizvollen Hörereignissen münden können, stellt die Emergenz eines spontanen Gruppenkonsens immer einen Vorgang besonderer Qualität dar.

Auch wenn sich für das Gelingen eines solchen Einklangs mit Sicherheit kein allgemeingültige Leitfaden formulieren lässt, so ist wohl unwiderlegbar, dass ideale Kommunikatonssituationen zumindest als Katalysator eines solchen fungieren. Dies verdeutlicht der hier stellvertretend für das Album "Boundless" angespielte Titel "Talking" auf nahezu paradigmatische Art und Weise.
Es mag der Reife der international zu wenig rezipierten Belgier geschuldet sein – Bildhauer und Bassist Paul Van Gysegem, der seine Wurzeln im Free Jazz der 1960er Jahre hat, Trompeter Patrick De Groote, der ab 1966 Ensemblepartner in Van Gysegems Sextet war und Percussionist Chris Joris, ebenfalls bereits in den 1960er Jahren an der Seite von Fred Van Hove spielend – dass es ihnen die Herstellung eines solchen idealen kommunikativen Rahmens, der den Partnern notwendige Freiräume öffnet und zugesteht, die feine Balance zwischen Ab- und Unabhängigkeit hält und allen Ensemblemitglieder gleichberechtigte Teilhabe garantiert, scheinbar mühelos gelingt — jedenfalls verdichten sich die individuellen Erfahrungsschätze und Präferenzen der beteiligten Akteure über die Spieldauer des Albums zu einem geteilten musikalischen Idiom, das die titelgebende Grenzenlosigkeit weniger als Unmaß nebeneinander stehender ästhetischer Spezifika erscheinen, sondern als Potential eines offenen, partizipativen Kommunikationsrahmens begreifen lässt."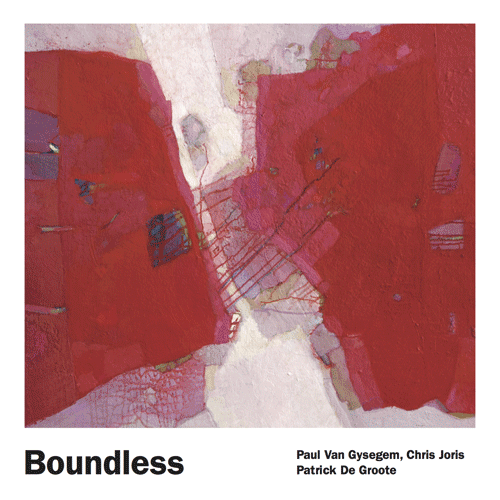 eNR065: Boundless by Patrick De Groote / Chris Joris / Paul Van Gysegem
Stef, The Free Jazz Collective (26/03/2018) ****½
This review was long due. A fantastic trio album that's been listened to dozens and dozens of times during traffic jams, during smooth traffic and at home, with more time and attention. And attention and time is what this music deserves. It's a set of nine tracks of free improvisation between Belgium's veteran jazz musicians.

Paul Van Gysegem plays bass. He is a visual artist - both painter and sculptor - and a musician with roots going back to the early free jazz period in the 60s, including the organisation of avant-garde festivals. Van Gysegem released "Aorta", his first sextet album, already in 1971. He played with Lacy and Waldron, and of course also with Fred Van Hove, Belgium's first real avant-garde improv pianist. Chris Joris is a percussionist, pianist (as on some tracks on this album) and educator, incredibly knowledgeable about African rhythms and instruments. Patrick De Groote plays the trumpet. Again, he's not very well known internationally, but he was already a member of the above mentioned sextet in 1971. Together, they are around 220 years old.

Some fifty years later, they meet again to deliver this wonderful album of freely improvised pieces, four in trio format and five duets between trumpet and bass. It is exceptional for a number of reasons. First, the music is solid: determined, open-ended, sensitive, respectful, crisp, creative. Second, this is today's music, and very much so: little stories evolve with only one purpose: to co-create quality music in the moment. No need for structure or patterns, just interactive explorations that each remain focused and coherent. Third, it is so full of energy and joy: you can feel how the musicians like it themselves. There is nothing 'tired' here, quite to the contrary, it's fresh, young in spirit and approach. It doesn't sound like their zillionth performance. It sounds like they're full of enthusiasm to start something new. Fourth, it's incredibly entertaining too. Despite the limited line-up, ideas abound, and the high quality is maintained throughout. And fifth, the sound quality is also very good.

It is boundless, as its title suggests. And what a pity that their published output is so limited."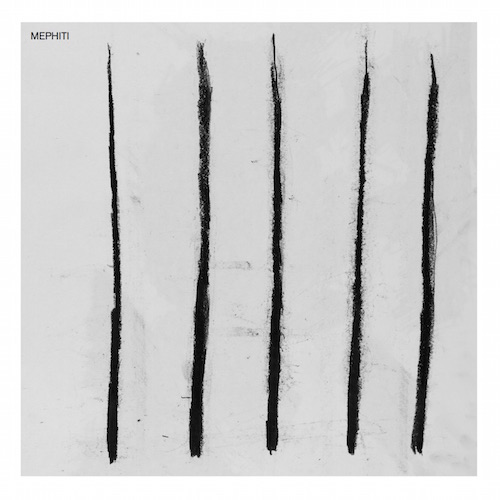 eNR082: s/t by Mephiti
Joseph « YT » Boulier, Jazzaroundmag.com (20/03/2018)
Le concept Mephiti s'articule autour du saxophoniste gantois Erik Bogaerts, par ailleurs leader au sein de la formation de jazz ambient Llop. La musique de ce sextet atypique (outre le saxophone et la section rythmique, on note la présence de deux guitaristes et d'une harpiste) se meut doucement, par petits pas et par petites touches, dans un climat quasiment dub, chuchotant l'éloge de la lenteur. On imagine facilement chaque musicien, recroquevillé et concentré sur son instrument, dont il tire des sons personnels qui construiront patiemment l'édifice. Ici, il n'y aura aucune envolée. La section rythmique est volontairement discrète, les soli d'Erik Bogaerts sont soufflés tout en retenue. La musique de Mephiti, aussi belle soit-elle, ne se vit pas : elle se subit, en ce sens qu'elle exige de l'auditeur un lâcher-prise profond.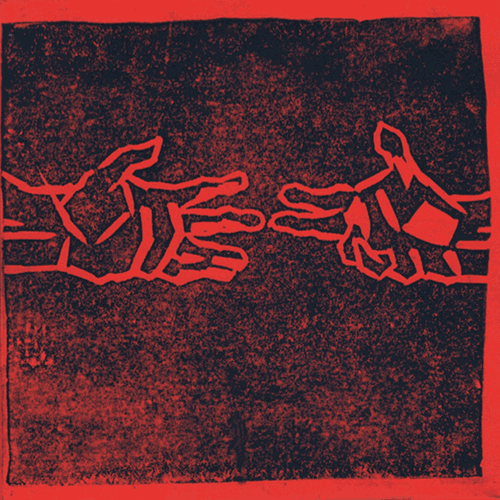 eNR066: : Non É Prohibito by Duo Periculoso
Ian Patterson, All About Jazz (13/03/2018) ****
The collaboration between violinist Gunda Gottschalk and bassist Peter Jacquemyn dates back to 1995, with the duo expanding to a trio in the live arena with the addition of accordionist Ute Völker. Non é Prohibito (el NEGOCITO Records, 2017) is only the duo's second recording and comes eighteen years after E Pericoloso Sporgersi (Valve Records, 1999). It's undoubtedly a hefty gap, although both musicians are busy in multiple settings -Jacquemyn most frequently in ensembles with alto saxophonist/bandoneon player André Goudbeek, and Gottschalk in the quintet Partita Radicale. As on their debut recording, Gottschalk and Jacquemyn once again dive headlong into entirely improvised dialog, with striking results.

The seven viaggi—or journeys—stem from free-jazz, an arena well familiar to both: Jacquemyn has played with the likes of Michael Moore, Tony Oxley, Peter Kowald and Barre Phillips, while Gottschalk's collaborations include guzhêng player Xu Feng Xia, William Parker, Susie Ibarra and Fred Frith. It's hardly surprising, therefore, that these improvisations are so fiercely uncompromising. In addition to violin, Gottschalk also attacks the strings of a viola, though only occasionally, on the most lyrical interludes, is it possible to distinguish the one from the other. Jacquemyn, in the main, works his bow, and both musicians employ wordless vocals, from nasal drone to something akin to a guttural, monastic mediation. Such articulations, however, are sparingly aired.

The pizzicato spluttering and sawing bowed bass of "Viaggio I" combine with frenetic energy and nerve-shredding effect like the soundtrack to some dystopian nightmare. Much of the music throughout is discordant and angular, the duo's healthy disregard for convention resulting in sounds that are, as on "Viaggio ii," evocative in turn of creaking wood, didgeridoo and animalistic mewling and growling. This is music, above all, that works on the nerves, emotions and one's imagination. For Gottschalk and Jacquemyn, as the album title suggests, nothing is out of bounds. There are also passages of quietly spun reverie, although the softly voiced interplay at the outset of the sixteen-minute "Viaggio iii" gradually evolves into a lunatic jig, the faintly sketched melodic lines themselves dissolving into more abstract sounds that maintain a tension, though not an easily discernible form, until the end.

Gottschalk and Jacquemyn embark in tandem, if not quite in unison, on "Viaggio iv," the arresting harmonics of their boldly interweaving lines repeatedly punctuated by islands of silence. The duo's maze-like paths are entirely unpredictable, though the very real sense of mutual purpose never diminishes as they spur each other on. The fractured narrative of "Viaggio v" is a tale of shifting moods. Beginning with a musical tit-for-tat, the duo exchanges staccato phrases like children's teasing mimicry; the soundscape then changes to urgent, car-horn brashness before the duo finds harmony in a gentle, melodic fade-out.

"Viaggio vi" a scratchy, fidgety affair, sees Gottschalk gravitate towards the violin's upper registers as Jacquemyn heads the opposite way with his bass. The duo signs off with "Viaggio vii," arguably the album's most atmospheric improvisation. Here, viola and bass carve out overlapping drones, Jacquemyn's barely wavering as Gottschalk's own evolves into a dark melody that compounds the sinister ambiance.

Non e Prohibito is an intense, challenging and liberating sonic journey, akin to passing through ever-changing scenery of an imaginary world. Thrilling and surprising in equal measure, it's also just a little disorienting. For those prepared to stay on board for the duration, however, and then willing to revisit Gottschalk and Jacquemyn's brave sonic world, the results are uniquely stimulating.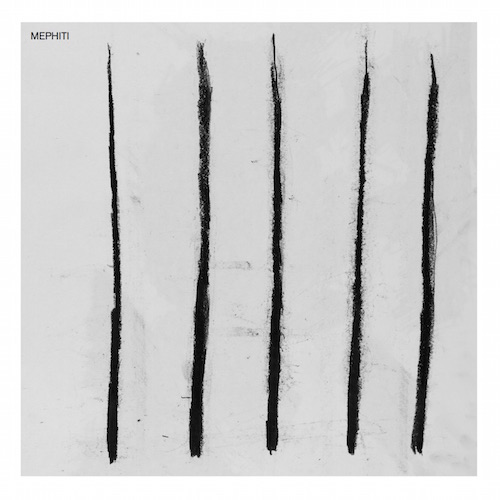 eNR082: s/t by Mephiti
Dave Sumner, The Best Jazz on Bandcamp: February 2018 (07/03/2018)
If there's a takeaway to this enchanting album from Mephiti, it's that there are countless ways to expressing a state of serenity. There's the melodic sigh of "Shilly," the raindrop pulse of "Hymne I," the emerging sunrise of "Hanneke," and the descent into night of "Krevelstraat." Mephiti swings between tranquility and liveliness; occasionally, it feels like a reinterpretation of Bill Frisell's dreamier solo projects. The quintet is rounded out by alto saxophonist Erik Bogaerts, guitarist Ruben Machtelinckx, guitarist Bert Cools, double bassist Brice Soniano, and Indrė Jurgelevičiūtė on kantele (a five-stringed instrument that possesses the grace of a harp and the punch of a kora).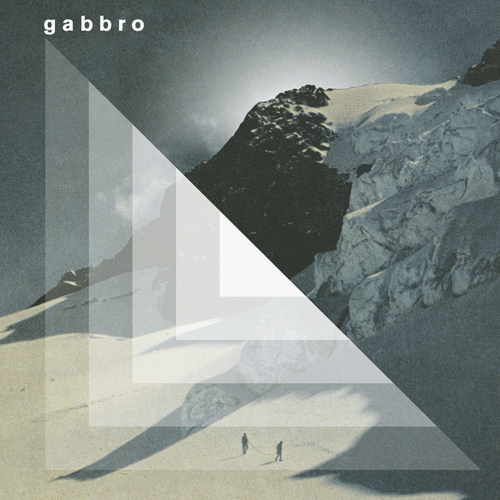 eNR060: s/t by g a b b r o
Jean-Claude Vantroyen, Mad, Le Soir (07/03/2018)
Le gabbro est une roche plutonique magmatique, à texture grenue. On l'utilise comme pierre de taille. Ou pour en faire des brise-lames. Le nom du duo composé de deux saxophonistes barytons, Hanne De Backer et Marc De Maesener, est donc bien pensé. Leur musique est grenue comme de la pierre et renvoie à des âges géologiques, quand le gabbro se formait : plaintes, explosions, silences, cris et tourbillons, orages et cataclysmes. Mme Hanne et M. Marc explorent outre les possibilités sonores et chromatiques du bary- ton et créent un dialogue improvisé. Sur la base traditionnelle du jazz et du free-jazz, mais en s'en échappant aussi parce qu'il faut exploser les structures, ce qui lui donne une atmosphère réso- lument contemporaine et profonde. Maintenant, c'est vrai, il faut aussi parfois s'accrocher. Mais laissez-vous aller, rentrez dans les vagues de cette musique et vous serez fascinés.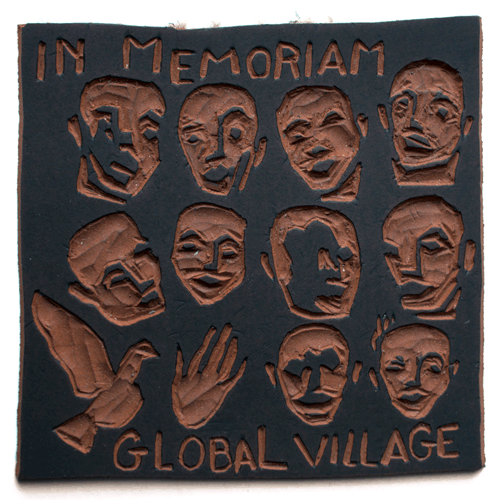 eNR069: in memoriam global village by Gunda Gottschalk, Xu Feng Xia & Peter Jacquemyn
Felix, eine von vier best-of-cds der Monate März/April, freiStil #77 Österreich (03/2018)
Saiteninstrumente in allen Kombinationen, Stimmungen, Schattierungen, dynamischen, rationalen und ekstatischen Zuständen werden von Gunda Gottschalk, Xu Feng Xia & Peter Jacquemyn zu Ehren der großen Musikerpersönlichkeit Peter Kowald ins Glühen versetzt, ihre Inspiration ins Blühen. Kowald, der unvergessene Kontrabassist, hatte bekanntlich in Wuppertal den "Ort" als internationalen, international beachteten Kunstumschlagplatz etabliert und mit Musizierenden so gut wie aller Herkünfte und Vorbildung das "Global Village" als offenes Orchester formiert. Gottschalk & Feng Xia waren – wie schon Holger Pauler in freiStil #74 im Gottschalk-Porträt herausarbeitete – seit jeher im "Ort"szentrum daheim, Kowalds Instrumentalkollege Jacquemyn stieß später dazu und hat fürs Booklet bzw. den Innenteil des vorliegenden Tonträgers eine so intelligente wie berührende Würdigung des Gründervaters verfasst. Er versinnbildlicht die Offenheit Kowalds beispielhaft an den Stilrichtungen, aus denen das hier vereinte Trio einst kam – Gottschalk aus der klassischen Violinausbildung, Feng Xia aus der traditionellen chinesischen Musik, Jacquemyn selbst aus diversen Punkbands. Er erinnert daran, wie die drei Anfang der 90er Jahre zum ersten Mal im Global Village aufeinandertrafen, wie sie 2002 zum Begräbnis Kowalds musizierten – und dass kein Tag vergehe, an dem er nicht wenigstens einen Moment lang Kowalds Vermächtnis reflektiere. In memoriam Global Village ist sohin beides, eine tiefe Verbeugung vor der Person und Kunst Peter Kowalds und zugleich eine Fortführung avancierter Tradition als unwiderstehlich intensives, komplexes, aus vollem Herzen gewachsenes zwölfteiliges Stück Musik, das schöner nicht vorstellbar wäre. Respekt!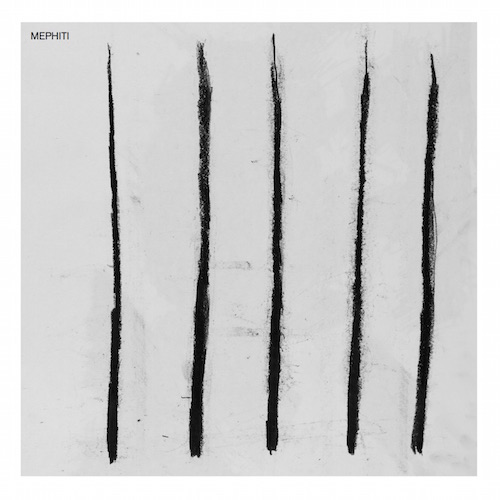 eNR082: s/t by Mephiti
Opduvel.com (05/03/2018)
In België bestaat een bloeiende jazzscene, bestaande uit pure muzikanten die met succes verschillende aspecten van het muzikale spectrum verkennen. Een voorbeeld van de meer uitbundige kant van de jazz is Stuff., dat met zijn elektrische en ritmisch complexe muziek hoge ogen gooit. De Beren Gieren stoeit ook met elektronica, al blijft dat in de eerste plaats een pianotrio. Daarnaast is een aantal muzikanten in de weer met meer bedachtzame en ingetogen muziek, zoals euphoniumspeler Niels van Heertum (Veder) en gitarist Ruben Machtelinckx.

Machtelinckx vinden we terug in Mephiti, dat onder leiding staat van altsaxofonist Erik Bogaerts. Hij maakt(e) deel uit van Banjax, Kvartett, Llop, Les Chroniques De L'Inutile en Book of Air: vvolk en daarnaast is hij solo actief. De saxofonist is niet alleen in zijn thuisland actief; hij was ooit artist in residence in het Zweedse dorpje Harlösa in 2014 en met Llop nam hij in Zweden een album op, in een kerk uit het jaar 1100. Een Scandinavische connectie is ook terug te horen in de muziek van Mephiti.

De bezetting van het sextet is een aparte. De drums worden bespeeld door Stijn Cools en de contrabas door Brice Soniano. Naast Machtelinckx is in de persoon van Bert Cools nog een tweede gitarist van de partij. Het sextet wordt gecompleteerd door Indrė Jurgelevičiūtė, een muzikante die de kanklès bespeelt, een Litouwse harp die te vergelijken is met een citer. Vooral de muzikanten op de snaarinstrumenten, die ieder een eigen klankkleur hebben, geven Mephiti een eigen geluid mee.

De muziek van het zestal klinkt zorgvuldig, goed doordacht en fijnbesnaard. Het is geen muziek die zich opdringt door noisy uitspattingen, gloedvolle solo's of zich alsmaar herhalende motieven. De composities van de hand van Bogaerts (vijf) en het sextet (drie) bieden de muzikanten ruimte om hun klanken op elkaar te laten inwerken, als op natuurlijke wijze. Er zijn momenten waarop een van de instrumentalisten het voortouw neemt, niet met als doel nadrukkelijk op de voorgrond te treden, maar om de compositie recht te doen.

Die composities zijn, hoewel toegankelijk, geen heel eenvoudig te consumeren stukken muziek. Daarvoor zitten de acht stukken op het album iets te complex in elkaar. Er wordt van de luisteraar wel enig concentratievermogen verlangd. Wie de rust heeft en de tijd neemt om de muziek op zich in te laten werken, wacht echter een kleine drie kwartier met bedwelmend mooie muziek.

Opener 'Shilly' toont direct de pure muzikale pracht van Mephiti, startend met het akoestische samenspel van gitaar en kanklès. Bogaerts toon op altsax is warm, mede door het gebruik van veel valse lucht, waardoor ruis een belangrijk onderdeel vormt van het gevoelvolle spel. Mooi is ook de unisono gespeelde melodie door gitaar en sax op het eind. Iets vlotter gaat het eraan toe in 'Hymne I', dat met zijn aanstekelijke ritmiek het meest in het oog springende stuk op de plaat is. Opvallend is het spel op de cimbalen van Cools en het doorlopend patroon van Soniano op de contrabas. De gitaren en kanklès vullen elkaar perfect aan, terwijl ieder zijn individuele stem behoudt.

In 'Hanneke' wordt een motief gespeeld door een van de gitaristen, terwijl de drums druk in de weer zijn, later samengaand met de basic noten van de contrabas, waar Bogaerts vervolgens zijn simpele maar doeltreffende melodieuze spel overheen legt. De saxofonist/componist hoeft niet elk gaatje te vullen en geeft veel ruimte aan zijn ritmisch in de weer zijnde medemuzikanten. 'Krevelstraat' opent met een paar stevige drumslagen, voordat het stuk in rustig vaarwater terecht komt. Het stuk is een fraai staaltje instant composing waarin subtiele experimenten zitten verwerkt.

Jurgelevičiūtė verzorgt de melodische opening van 'Hymne II', gevoelvol begeleid door Machtelinckx en Cools op gitaar en later ook door de gestreken klanken van Soniano. De melodie van de altsax is langzaam, bestaande uit alleen de noodzakelijke noten. Halverwege krijgt het stuk meer beweging, door de ruisende bekkens en met brushes bespeelde snare van Cools, later overgaand op tikken met de tromstok op de rand, en de baslijnen van Soniano. 'Lenaé' is vervolgens pure melodische pracht. Opduvel zou zweren delen van de melodie al eens te hebben gehoord, zo herkenbaar, zo vertrouwd klinkt het stuk. En zo mooi.

'Lenaé' eindigt met slechts slagwerk en percussie, waarna 'Oude Steenweg' ook lange tijd een solo voor het slagwerk is, de titel van het stuk ten gehore brengend. Pas in de laatste minuut voegt een gitaar zich bij de drums. Die gitaar opent vervolgens het slotstuk 'Kat Kreupel', de afsluiter die op bedaarde wijze naar het einde toewerkt. Cools' werk op de cimbalen voorziet het stuk van spanning, terwijl de gitaren, kanklès en sax voor de muzikale schoonheid zorgen. Een passend einde van een wondermooi album.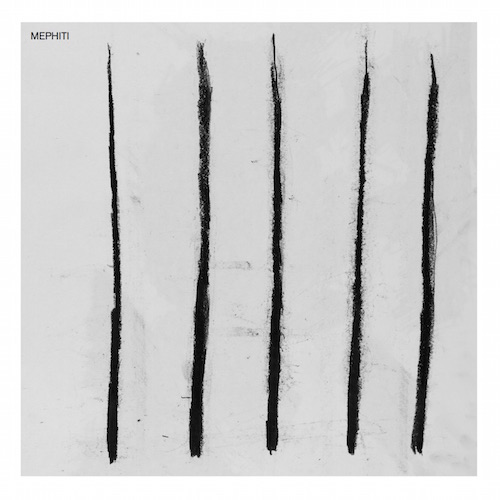 eNR082: s/t by Mephiti
Rigobert, BA 97 rbd (03/03/2018)
Der Altosaxophonist Erik Bogaerts, bei Book Of Airs "vvolk" noch Sidekick, hat mit Llop für mich Magritte und Delvaux anklingen lassen. Bei Mephiti hat er mit dem Drummer Stijn Cools, Bert Cools an Guitarre & Synthie, Ruben Machtelinckx an Gitarren und Indre Jurgelevičiūtė an Kankles lauter Vvolks-Genossen um sich, dazu spielt Brice Soniano (vom Carate Urio Orchestra) Bass. Wie da die Gitarren und die litauische Zither plinken und das Alto an Zartbitterschockolade leckt, kann einem das gern ein "Oh!" entlocken. 'Hymne I' scheucht mit erhöhtem Tempo und leicht klackendem Latin-Touch allzu kuschelkitschige Anwandlungen aus dem Sinn, trotz des Altos als Zu­ckerrohr mit einem Geschmack für coole Raffinessen. Die vielen Feinheiten und der nach­denkliche Anflug lassen Werbespotscouts abwinken, man darf die Leute nicht so schwie­melig beschallen, wenn man sie animieren oder gar enthusiasmieren will. Mephiti chan­giert zwischen Eleganz und Melancholie, mit wehmütigem Bassstrich und Altohauch, eine Gitarre spinnt Silberfäden, Cools dongt die Becken, alles Krasse und Vulgäre, das die flämische Mentalität gern noch übertreibt, ist hier ganz ins Feine zerfunkelt. Keine Spur von "Code 37"-Abgründen in der 'Krevelstraat'. Allerfeinst harfen und plinken Kanklés und Gitarre zur samtigen 'Hymne II', Bogaerts verfeinert sich fast zum Sopran. 'Linaé' ver­schiebt den Akzent von folky auf groovy, mit Rassel und Woodblock viel zu sublim für Schweiß. Schon, dass man auf dem 'Oude steenweg' einer verkrüppelten Katze begegnet, verwundert, aber auch das beckenüberrauchte Pochen, das diese Gruppenkomposition zu meinem Liebling macht. Zarteste Gitarrenfinger mit einem Herz für ein blindes Auge, ein fehlendes Katzenbein, gießen zuletzt, zusammen mit dem nochmal bittersüßen Altoton, Balsam auf Wunden, die die verkehrte Welt schlägt.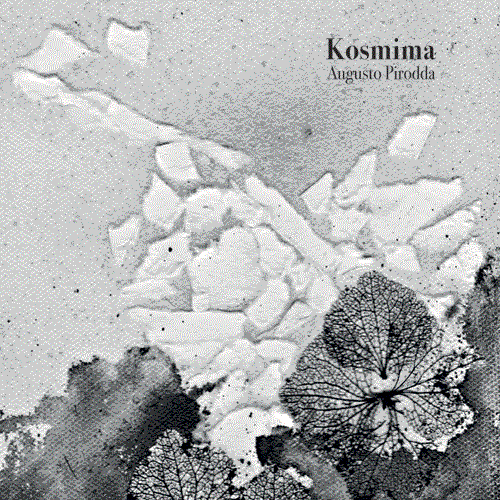 eNR081: Kosmima by Augusto Pirodda
Republic of Jazz (02/02/2018)
Augusto Pirodda plays solo, to the rhythm of his piano, and makes this intensely poetic and fascinating journey. He constantly searches for new ideas, avoids stereotypes and stylistic barriers. Like a tightrope walker, he moves effortlessly between jazz and free improvisation.

Augusto Pirodda is known from his trio with Gary Peacock and Paul Motion and his quartet with Ben Sluijs, Marek Patrman and Manolo Cabras.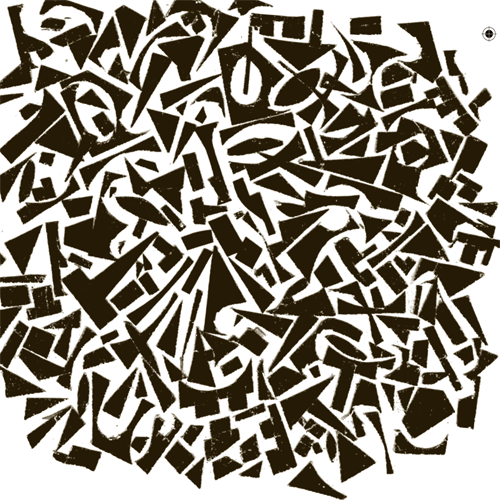 eNR054: Getting Lost in Tiny Spaces by GLiTS
Georges Tonla Briquet, Jazzenzo (08/01/2018)
Trompettist Bart Maris en pianist Peter Vandenberghe trekken al jaren samen op als leden van Flat Earth Society en voordien van X-Legged Sally. Voor deze 'Getting Lost In Tiny Spaces' kozen ze onder de naam GLiTS de duo-formule. Actie en spanning zijn er niet minder om.

De hoestekeningen van Bart Maris in pure zwart-wit Masereel-stijl, duiden meteen aan waar de inhoud om draait. Een verzameling muzieknoten geordend volgens semi-kubistische principes. In totaal dertien kleine vakjes waarbinnen telkens een kort verhaal verteld wordt. De meeste zijn van de hand van Maris, een aantal schreven ze samen maar uiteindelijk mondt alles steeds uit in een dynamische aanwending van (stukjes) improvisatie.

Maris en Vandenberghe steken van wal in hyper intensieve overdrive. Afwisselend zijn ze bestuurder en medebestuurder. Er wordt nooit overgeschakeld op automatische piloot. Het duo heeft duidelijk een plan en een uitgestippelde reisroute. Het geluidsdecor waar ze doorheen flitsen, zit propvol contrasten. Hoge trompettonen ruimen plaats voor donkere pianoriedels. Kinetische stukken vloeien over in minimalistische passages. Een van de hoogtepunten is 'Tiny Space' dat langzaam uit het niets opduikt om slechts noot voor noot geheimen prijs te geven en dan toch uiteindelijk met een open einde af te sluiten. Ook het spiritueel getinte 'GOI' blijft na elke beluistering fascineren.

Extra verrassend wordt het als je de cd at random gaat luisteren. Een schijfje dat perfect past in de eclectische catalogus van el NEGOCITO.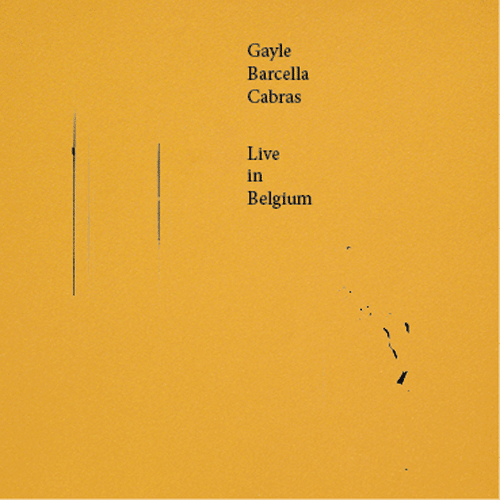 eNR062: Live in Belgium by Gayle Barcella Cabras
Mark Corroto, All About Jazz (04/01/2018) ****
Picking up any recording by the saxophonist (sometimes pianist) Charles Gayle always reminds me of the quote by actress Bette Davis' from the the film All About Eve (1950). After downing her martini in one gulp, Davis walks away, turns, and announces "fasten your seatbelts, it's going to be a bumpy ride." Not bumpy as in uneven or rutted here, but strident and earth-shaking music. Live In Belgium is no exception to that narrative.

By now, the story of Gayle is well known. Homeless and playing his saxophone on the streets of New York for twenty years, his explosion onto the music scene in the later 1980s coincided with the DIY Downtown movement at the Knitting Factory and the discovery of free jazz by punk rock fans, including Henry Rollins. Funny thing about Gayle is, he has never abandoned his principles or debased his music. His edge remains razor sharp. This recording was made during a tour with Belgium-based Italian musicians Manolo Cabras and Giovani Barcella, both worthy complements to Gayle's approach.

Opening with the fiery improvisation "Chiaro Sguardo," the trio attempts to catch lightning in a bottle or are they just burning off any residue and chasing the nonbelievers from the club? Maybe, but that is just a gross oversimplification. Gayle, like brother Albert Ayler before, has a way of raising intensity by stripping music down to its essence. "Di Piccola Taglia" trickles then pours energy music over the crowd as a ritual of emptying. The piece finishes with Barcella's drum solo and the next track is a solo piece from Cabras' bass. It is quite obvious these three have created a mutual trust and friendship as the camaraderie is perceptible. The trio doesn't so much cover John Coltrane's "Giant Steps" on "Steps," as recontextualize it within the free jazz realm. He has taken on the classic composition on three previous recordings, and like those outings, he liberates Trane's technical exercise from its moorings to launch the music into the stratosphere. Like Anthony Braxton, Gayle sets his saxophone down to play piano. On "Dimmi" he explicates his musical theory by way of a more straightforward 88 keys. The passion remains here, and his technique is more expressive than Braxton.