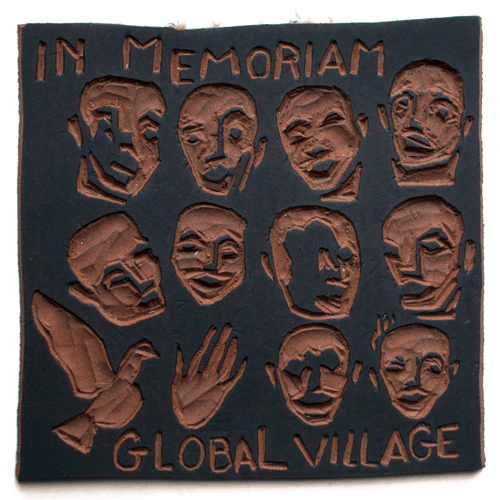 Gunda Gottschalk - violin, viola & voice
Xu Feng Xia - guzeng & voice
Peter Jacquemyn - double bass & voice

Recording: Jussi De Nys at Floraliënhal, Ghent
Mixing: Jussi De Nys at Nice-Recordings
Mastering: Gert Van Hoof at Coclea studios
Executive Production: Rogé Verstraete
Artwork: Peter Jacquemyn
Lay Out: Jan Pillaert
Available on CD
release 1 november 2017
(ENG)
We come out of different worlds, Xu, Gunda and I. Gunda, classically-educated, Bach and Beethoven and contemporary music, Xu emerges from traditional Chinese music, the Conservatory of Shanghai, and me, I'm a sculptor, as a young guy bass guitar in a punk band, whereupon attempts of playing jazz. At the same time we have something fundamentally in common.

Somewhere at the beginning of the 1980s I went by pure coincidence to the Free Music Festival in Antwerp. Free Music, I had no idea what to expect. The first band that evening was 'Trio Tartini', with a female dancer from the Pina Bausch Wuppertal Tanztheater (I do not recollect exactly who) a female bass player, Joëlle Léandre and a male bass player, Peter Kowald. Struck by a lightning bolt, i realised this was it, music with the virtuosity of jazz, the complexity of classical music, the authenticity of folk music and the roughness and energy of punk, and in addition the freedom, the freedom and the joy of playing ... The tone was set, these were the avenues to explore.

Something similar happened to Gunda and Xu. Kowald drew us to free music. And Peter Kowald brought us together too, he introduced me to Gunda in 1995, right there and then, the starting point of our duo. Peter liked to unite, to connect and used the universal language of music as a means. You do not have to understand each other, backgrounds ethnic-social, cultural may differ, as long as there is some openness, people can always make music together.

Through this view point, 'Global Village' was created, a flexible / set ensemble with mu- sicians of all kinds. It began as a trio with Peter, the Tuvan-Mongolian singer Sainkho Namschylak and the French-Vietnamese drummer Lé Quan Nînh and evolved into a trio with Peter, Xu Feng Xia and Gunda Gottschalk.

In 2002, Peter died suddenly, far too early, at the age of 58. Gunda played at his intern- ment, Xu and I played at the gathering that evening.

Now, so many years later, I'm following Peter's footsteps. Shortly after Peter's death, I had already substituted him in the trio with Assif Tsahar (Tenor Saxophone, Israel) and Vladimir Tarasof (Percussion, Lithuania). "We have to keep the Spirit alive," Assif said, and we did, and we still do.

'In Memoriam Global Village' dedicated to the improvisator, always very much involved, co-founder of free music, inspirator and leader for so many, master bass player and great human being Peter Kowald.

Not a day goes by without reflecting a moment about Peter.
Dedicated to the memory of Peter Kowald.
Press
"Splendide et incontournable." Le Vif Focus (26/04/2018)
"en de veelheid aan tactieken maken van In Memoriam: Global Village een verrassend toegankelijk album." Guy Peters, Enola (06/12/2017)
"Respekt!" eine von vier best-of-cds der Monate März/April, Felix, freiStil #77 Österreich (03/2018)
1. intro
G. Gottschalk / X. Feng Xia / P. Jacquemyn - 02:56
2. ladies dialogue
G. Gottschalk / X. Feng Xia / P. Jacquemyn - 02:42
3. broken bow
G. Gottschalk / X. Feng Xia / P. Jacquemyn - 06:08
4. all sing
G. Gottschalk / X. Feng Xia / P. Jacquemyn - 02:54
5. rain on the roof
G. Gottschalk / X. Feng Xia / P. Jacquemyn - 07:46
6. Gunda
G. Gottschalk / X. Feng Xia / P. Jacquemyn - 02:33
7. brij
G. Gottschalk / X. Feng Xia / P. Jacquemyn - 02:56
8. Peter
G. Gottschalk / X. Feng Xia / P. Jacquemyn - 03:34
9. daver
G. Gottschalk / X. Feng Xia / P. Jacquemyn - 05:03
10. Feng Xia
G. Gottschalk / X. Feng Xia / P. Jacquemyn - 03:40
11. schön
G. Gottschalk / X. Feng Xia / P. Jacquemyn - 04:55
12. in memoriam
G. Gottschalk / X. Feng Xia / P. Jacquemyn - 06:03
total time ..:..
eNR069 © 2017
Buy CD