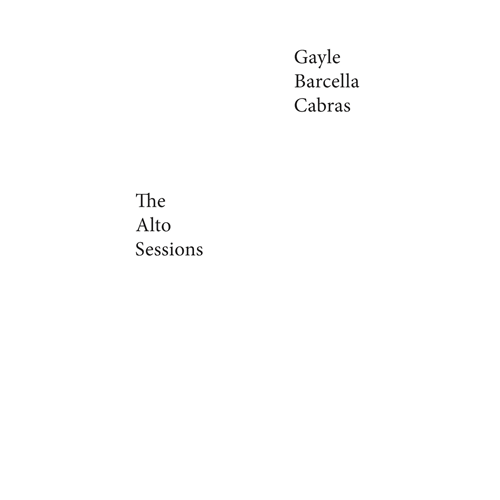 Charles Gayle - alto saxophone & piano
Giovani Barcella - selected drums and cymbals
Manolo Cabras - double bass
Recording: at "Motormusic Studio" Mechelen, Belgium on the 27th of October 2017
Mixing & Mastering: Manolo Cabras
Production: Rogé en el NEGOCITO Records
Photograph: Benoit Van Maele
Cover & Design: Dries Verstraete
Available on CD
release 4 april 2019
(ENG)
Charles Gayle remains a living embodiment and voice of the great African American tradition; his sincerity and intensity are recognized as unique and absolutely dazzling. Every Gayle concert is the continuation of the great tradition that can still be called "free", but not in the sense of 'free jazz' that some people still talk about.

Citadelic Gent matched the Italians Giovanni Barcella (Marshall Allen, Arthur Doyle, Bobby Few, JJ Avenel) on drums and bass player Manolo Cabras (Toots Thielemans, Enrico Rava, Paolo Fresu, Roswell Rud , ...) with Gayle on stage for their festival in 2011. The following years they've toured intensively and head out now with a studio recording featuring Gayle on Alto Saxophone, a second album for the trio.

When Gayle first set out on the streets, he did not imagine he would remain homeless as long as he did. In 1988 however, he gained fame through a trio of albums recorded in one week released by Swedish label, Silkheart Records. Since then he has become a major figure in free jazz, recording for labels including Black Saint, Knitting Factory Records, ESP and FMP. Gayle's most celebrated work to date is the album Touchin' on Trane with William Parker and Rashied Ali, which received the "Crown" accolade from the Penguin Guide to Jazz.

The encounter of these spirits is each time immediate and enchanting, the musical cohesion and the respect of the three musicians for each other for ever endless.
Press
"a well-balanced recording of the frenzied, clunky free jazz that has granted Gayle renown." Nick Ostrum, Freejazz blog (05/04/2020) ****
"The music of this album is a great collaboration of three featured jazz masters – it's made with passion, drive and expression." Avant Scena Contemporary music blog (09/08/2019)****
1. Sub Philosophy
C. Gayle / G. Barcella / M. Cabras - 09:32

2. Charles's Speech
C. Gayle / G. Barcella / M. Cabras - 08:28

3. Three Lonely Legs
C. Gayle / G. Barcella / M. Cabras - 06:37

4. Solitudine
G. Barcella - 03:30

5. Dark Optimism
C. Gayle / G. Barcella / M. Cabras - 07:47

6. Balosismik
M. Cabras - 02:36

7. Sun Sin
C. Gayle / G. Barcella / M. Cabras - 06:29

total time - 44:59
eNR092 © 2019
Buy CD