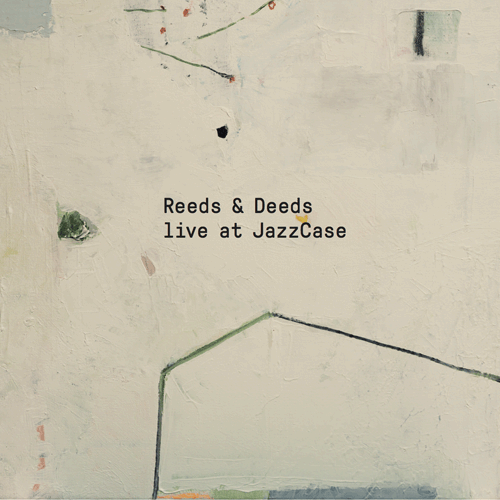 Frans Vermeerssen - Tenor & Soprano Saxophone
Bo van de Graaf - Alto, Tenor & Soprano Saxophone
Alex Coke - Tenor saxophone, Flute & Piccolo
Michiel Braam - Piano
Arjen Gorter - Double Bass
Makki van Engelen - Drums

Recording: Piet Vermonden live at 'Dommelhof' in Neerpelt on the 15th of November, 2018.
Mixing & Mastering: Mark Peters
Artwork: Nicolas Leus
Design & Photograph: Pascal Van Hoorebeke
special thanks to Cees van de Ven
jazzcase.be
Available on CD
release 07/06/2019
(ENG)
This recording is a testament to the far-reaching genius and influence of Rahsaan Roland Kirk. The band consists of musical journeymen bearing duty-free gifts.

Although Kirk's career was short he was prolific. The compositions from this recording range from Three For The Festival and The Haunted Melody from the Mercury album We Free Kings, recorded in 1961, to Stepping Into Beauty from the 1976 Warner Brothers recording Kirkatron. Mixed meters, up tempos, blues and ballads are all represented.

Spreading his gifts and messages.

Like Rahsaan, everyone in the band has one foot rooted in tradition as the other foot steps into the future. Like Rahsaan, the band is highly flexible, creating solid grooves and exploding into other directions at a moment's notice. The reed section can produce a powerful wall of sound with three tenor saxophones, or create kaleidoscopes of timbres with diverse instruments.

Kirks Work

Rahsaan's work reveals a timelessness and yearning for freedom and exploration. Like the AACM, Jimi Hendrix, Charles Mingus and Archie Shepp, Rahsaan had a way of capturing the spirit of the times without feeling dated. There's a melding of tradition with eclecticism and iconoclastic irreverence that informs both Rahsaan's compositions and the Dutch mindset.

Reeds and Deeds

Reeds and Deeds' history has been cumulative. Every performance finds the music going a bit further and the roots becoming a bit deeper. There is a joy of discovery between band members, an awareness of structures and tonalities, and letting the music rip.

Rahsaan's music gives us the freedom to create a palimpsest that celebrates and honors his influence on us as artists, musicians and human beings.

This recording comes from a live performance at JazzCase, made possible by the indefatigable Cees van de Ven and his hospitable team at Dommelhof. The audience was enthusiastic and encouraging.

Bright Moments!
Alex Coke
Press
"It's clear that the sextet members really honor Kirk by applying their own concepts to his musical legacy." Ken Waxman, Jazzword Canada (28/02/2020)
"Het ensemble Reeds & Deeds is niet alleen een van de meest opwindende live gebeurtenissen van dit moment, maar hun ronduit indrukwekkende cd mag nu al tot de canon van de Nederlandse jazz gerekend worden: een album waar je niet omheen kunt." Cyriel Pluimakers, Jazzenzo Nederland (09/10/2019)
1. A Laugh for Rory
Rahsaan Roland Kirk - 05:16
piccolo solo, piano solo, alto solo Bo

2. Gifts and Messages
Rahsaan Roland Kirk - 08:23
tenor solo Frans, bass solo

3. Three for the Festival
Rahsaan Roland Kirk - 07:02
1st tenor solo Frans, soprano solo Bo, 2nd tenor solo Alex, piano solo, bass solo

4. Steppin' into Beauty
Rahsaan Roland Kirk - 05:55
flute solo, bass solo

5. Silverization
Rahsaan Roland Kirk - 09:23
1st tenor solo Frans, 2nd tenor solo Alex, drum solo

6. The Inflated Tear
Rahsaan Roland Kirk - 07:00

7. The Haunted Melody
Rahsaan Roland Kirk - 06:05
soprano solo Frans, piano solo

8. Bright Moments
Rahsaan Roland Kirk - 06:53
flute solo, piano solo

9. Vertigo Ro
Rahsaan Roland Kirk - 10:34
piano solo, tenor solo Alex, drum solo
total time - 1:06:31
eNR074 2019