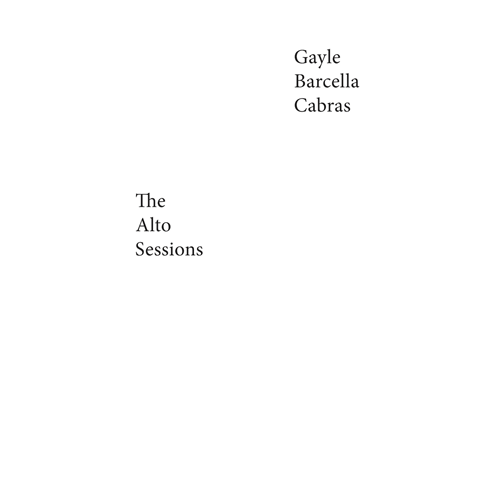 Nick Ostrum, Freejazz blog (05/04/2020) ****
Charles Gayle has received a lot of love on FJB, and for good reason. Bear with me for a minute and I will try to keep the redundancy to the essentials.

From truly humble beginnings, Charles Gayle has become a legend. His story is almost the very stuff of jazz fantasy: a lone artist devotes himself completely to his craft in the face of an unyielding world (or music industry) only to overcome obscurity and gain due recognition – albeit on the fringes – in his later years. That romantic tinge only holds, however, if you focus on the uncompromising quest for self-realization through music and strip it of the hardships endured in a decade and a half of homelessness, whereby Gayle survived by busking in a fashion more likely to repel than attract the average passer-by. This, of course, was how Gayle refined his sound, which lies somewhere between freneticism of Charlie Parker, the spirituality of Albert Ayler and late-stage John Coltrane, and the off-the-walls adventurism of Arthur Doyle. If you have listened to his previous recordings, you already know he digs deep into the new thing tradition and, if you have heard Solo Piano or Live at the Glenn Miller Café you know his roots run still deeper beyond free-bop and be-bop. Gayle's inspiration also emanates quite unapologetically from his religious faith (listen to the brief thank you at the end of Seasons Changing for a brief and inclusive declaration) and his oft-noted resistance to commercial conformity, as well as his experience, all those decades ago, on the streets of New York. As Gayle himself explains, "I tried to copy the sounds I heard: the traffic, the fire engines, the police cars, even babies crying. Everything. It's just automatic. You do it all these years so that becomes your music." This odd brew of obstinacy and spiritualism, deeply human music and accidental noise pollution, struggle and discipline, tradition and vanguardism, makes him hard to pin down. This also makes him so exhilarating.

Now, some three decades after his first releases on Sweden's Silkheart label, Gayle is an octogenarian and he is still blowing his uniquely colored fire, as these recordings from 2019 attest.

The Alto Sessions is a studio recording with two musicians Gayle first played with in 2011: Giovanni Barcella (bass) and Manolo Cabras (drums). Since their first meeting these three have consistently practiced and toured and intermittently recorded. This is their second album together.

It begins with a series of twisted wails. Barcella and Cabras bide their time for a minute, and chime in with similarly gnarled lines and broken rhythms. From there, a wild ride ending abruptly with energy and some of Gayle's (?) vocal howls. The second track, "Charles's Speech" is a ballad, softer and blusier than Gayle usually lays. The rhythmic accompaniment is sparse and lyrical. "Three Lonely Legs," the third track, returns to the energy music paradigm, laden with squeals and tortured scales. In a way that it seems only Gayle can muster, however, behind this aggressive, inspired abstraction resides and underlying pensiveness and meditation. This theme carries over into the next track, Cabras's steadily lumbering and meditative solo-drum piece "Solitudine."

The ominously titled "Dark Optimism" is one of the surprise treasures on this album. It begins with Barcella's squealing arco bass, soon followed by tentatively rummaging drums and a surprisingly restrained Gayle on piano. A fan of Time Zones, I found his piano work here more disciplined, effective, and, well, dark. Except for a brief twinkling of upper register keys at the end of the piece, I find little evidence of optimism, but maybe that is the point: the lightness comes imperceptibly and only as the darkness retreats. Barcella steps in for the next piece, "Balosismik," a slow solo-bass meditation that leads into the final piece, "Sun Sin." Here, the group reconvenes in their original formulation as Gayle returns to the alto and his truncated, contorted phrasings overlaying a propulsive, deeply synergistic rhythm section. All in all, a well-balanced recording of the frenzied, clunky free jazz that has granted Gayle renown.
Avant Scena Contemporary music blog (09/08/2019)
The Alto Sessions is released on el NEGOCITO Records. Album was recorded by Charles Gayle (alto saxophone & piano), Giovani Barcella (selected drums and cymbals) and Manolo Cabras (double bass). Three featured jazz masters are the central figures of avant-garde jazz scene. They mix up their creativity, talent, wide musical knownledge, modern musical language and individual improvising style. Innovative sonoristic experiments, original and extended playing techniques, bright and moving tunes, inspiring, thrilling and driving melodies – each jazz masters had already developped their own and unique way of playing by integrating together all these elements of musical language. The improvisers are dedicated to create something new – their music is full of contrasts, bright tunes, radical or provocative decisions, light and moving excerpts. Musicians are playing and collaborating with other famous jazz stars. All their music is based on avant-garde and experimental jazz. They had managed to develope and masterfully improve an inspiring and expressive style of improvising by using different jazz styles and streams. Experimental jazz innovations, the basics of avant-garde jazz are gently combined together with the roots of 1960's avant-garde jazz, European and American avant-garde jazz streams and the tunes related to various modern jazz styles. This huge stylistic variety also makes an effort to original and innovative sound.

"The Alto Sessions" is a burst of energy, drive and synthesis of innovations and traditions who get along just fine together. All three jazz masters are showing their masterful virtuosity, creativity, the ability to fuse absolutely contrasting excerpts and driving playing style. All music is completely based on free improvisation, experimental jazz and the newest innovations of it. The musicians don;t forget the main basics of avant-garde jazz – they get back to the roots of 1960's and 1970's jazz and the music of its pioneers. An open form is chosen everywhere – musicians are making incredible collective improvisations with expressive melodies, immediate reponses and fantastic riffs. Musicians are dedicated to create something unheard, new and exciting – remarkable, glamorous and stable melody line isn't their first priority. They choose to synthesize all the fields of musical language – that's why each composition has a driving and expressive melody line, rich musical language, dramatic culminations, dynamic and energetic rhythmic section, gorgeous background which is illustrated by fascinating sonoristic experiments and expansion of technical abilities. The music is contrasting and bright – musicians are fusing together different pieces who have individual style, motion and character. A colorful, expressive and modern instrumental section is made by experimental, specific and extended playing techniques, special effects, strange timbres and some classical playing techniques. Saxophone's and piano's melodies by Charles Gayle are real bursts of energy. Sharp, perturbating and blowing riffs who come to passionate, light and dizzy passages, gorgeous ornaments, silent contemplations, slow and lyrical excerpts or go straight to hot thrills, full blasts, terrific vibrant culminations, impressive melodies, aggressive sharp and frantic blow outs – that's the main elements of saxophone's melodies. It's – energetic, bright, vivid and driving improvisations, which make an effort to energetic, remarkable and simply fantastic melody line. Charles Gayle also is a great pianist. His piano tunes are filled with vivid and light excerpts, expressive and charming melodies, driving solos who are frequently accompagnied by dizzy transcendental passages, strange tunes, special effects and gorgeous ornaments. Perturbating breaking sessions, frantic sequences of disonances and turbulent rhythmic series also are frequently used in his music. The synthesis of these elements finally makes a charming, bright and exclusive sound. Bass tunes by Manolo Cabras are based on sound experiments and innovative ideas. Improviser is showing his huge musical knownledge and expressive musical language. He goes through different moods who are strongly contrasting with each other – from silent, relaxing, dreamy or minimalistic samples music gets thrilling, rapid, dynamic, shrieky, turbulent, vibrant and terrific or calms down to stable and deep bass line, which is kept all the time. Manolo Cabras improvisations have a suggestive, innovative and interesting sound. Drums section by Giovani Barcella is energetic and dynamic. Nervous and complicated bebop, aggressive and moving hard bop, contrasting post bop, stable and relaxing cool, extravagant and constantly changing mainstream rhythms are mixed up to the African and Afroamerican music rhythms, impressive and wild free improvisations, spontaneous solos and stunning sonoristic experiments. Drummer manages to create an impressive rhythmic section – it's bright, dynamic, vivid, perturbating and driving. The music of this album is a great collaboration of three featured jazz masters – it's made with passion, drive and expression.