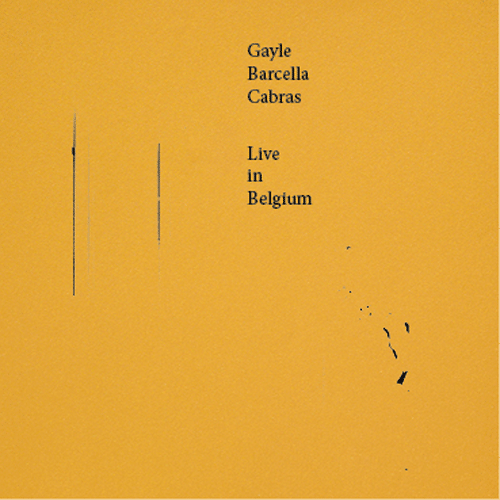 Charles Gayle - tenor saxophone & piano
Manolo Cabras - double bass
Giovani Barcella - selected drums and cymbals


music from the live concerts at recyclart Brussels en De Werf Bruge, january 2015.
Recording, Mixing & Mastering Engineer: Manolo Cabras
Artwork & Photography: Dries Verstraete
Production: Rogé Verstraete & Giovanni Barcella
Available on CD
release 15 june 2017
(ENG)
Charles Gayle remains a living embody and voice of the great African American tradition; his sincerity and intensity are recognized as unique and absolutely dazzling, live and on a recording. Each concert Gayle is the continuation of the great tradition that can still be called "free." However not in the sense of the "free jazz" some people still speak of. Gayles mastery of that tradition is confirmed on his solo and pianowork.

After being invited to Belgium by el NEGOCITO Records for the Citadelic Festival in 2012, the Italian drummer Giovanni Barcella (Marshall Allen, Arthur Doyle, Bobby Few, J.J. Avenel) organized three tours through Italy and Belgium, with the Italian double bass player Manolo Cabras. The meeting of minds was immediate, the musical coesion and respect for each another reason to keep on playing and releasing this live album.
"They'd stop to hear a song, but I'm not playing songs. What I hear is the traffic. Everybody in New York hears it, but it's really vivid in my head. Horns and children and birds, too – I hear them so clearly, they hit me so hard. The subway roar, the jackhammers. Not that they're so loud but they stay there. The trucks and the sirens and the screeching and the hollering and the brakes, all that jagged movement, the Arggghhhh!" Jean Claude Charles Gayle (US) about him playing on the streets of NY
(NL)
Charles Gayle is een levende belichaming en stem van de grote Afrikaanse Amerikaanse traditie; Zijn oprechtheid en intensiteit worden erkend als uniek en absoluut verblindend, live en op opname. Elk concert die Gayle speelt is de voortzetting van de grote traditie die nog steeds als 'free' kan worden genoemd. Maar niet in de zin van de "free jazz", zoals vaak gezegd.

Nadat hij als centrale gast naar België werd uitgenodigd voor het Citadelic festival in 2012 door el NEGOCITO Records, organiseerde de Italiaans-Gentse drummer Giovanni Barcella (Marshall Allen, Arthur Doyle, Bobby Few, J.J. Avenel) drie tournées doorheen België en Italië met de Italiaanse contrabassist Manolo Cabras. De ontmoeting van geesten was onmiddellijk, de muzikale coësie en het respect voor elkander meer dan een reden om te blijven spelen en dit live album uit te geven
Press
"Funny thing about Gayle is, he has never abandoned his principles or debased his music. His edge remains razor sharp. This recording was made during a tour with Belgium-based Italian musicians Manolo Cabras and Giovani Barcella, both worthy complements to Gayle's approach." Mark Corroto, All About Jazz (04/01/2018) ****
"Free maar nooit vrijblijvend, helemaal à la Albert Ayler. Ook voor fans van Cortex en Mostly Other People Do The Killing." Georges Tonla Briquet, Jazzhalo (28/11/2017)
"The musicians are deeply committed to their art and the cooperative approach keeps the music intact, and this leads to a fine conclusion of a very exciting and rewarding recording." Tim, jazzandblues.blogspot.com (18/11/2017)
"Live in Belgium proves that a committed fabulist like Gayle can create high-quality and sometimes unanticipated sounds no matter the situation, the place and the associates. Having two simpatico players like Cabras and Barcella on hand though intensifies the program." Ken Waxman, Jazzword (11/11/2017)
"ジャズ史を振り返ってみると、こんな凄い音を発しながら長生きできた人は実はほとんどいない。" Joe, Hatenablog (12/05/2017)