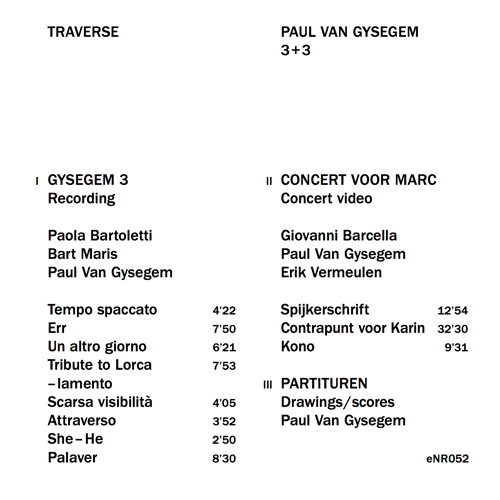 Paul Van Gysegem - double bass
Paola Bartoletti - voice
Bart Maris - trumpet
Erik Vermeulen - piano
Giovanni Barcella - drums

Recording & Mixing Engineer: Giovanni Barcella
Mastering Engineer: Jussi De Nys
Executive Production: Rogé
Artwork: Paul Van Gysegem
Lay Out: Laurens Teerlinck

Available on CD + DVD
release September 18, 2016 at Jazz in 't Park festival in Ghent, Belgium
(ENG)
Paul Van Gysegem (Berlare, Belgium, 1935) can look back on an impressive record of achievements and varied oeuvre: sculptures, paintings, drawings and etchings. Moreover, he is a very passionate musician.

The album Aorta (1971) of Paul Van Gysegem Sextet, often in one breath as Peter Brötzmanns cult album Machine Gun, is recognized worldwide as one of the classics of European free jazz. When the late '60s many key figures of American jazz, such as Steve Lacy, Sunny Murray, Cecil Taylor, Don Cherry ... did to the European latitudes, it could not help but get into Belgium following. Especially as happened in Ghent, where the young bassist Paul Van Gysegem few like-minded musicians around him knew gather to explore this genre together. From this stemmed the groundbreaking album Aorta.

In the first trio of Gysegem (tracks 1-8), Bart Maris trumpeteer extra-ordinair and the Italian poet/singer/performer Paola Bartoletti engage and improvise. There is a encounter of two worlds: one of poetry, word and sound in dialoque with this very sensitive bass player, renowned for his farreaching research of form.

In the second trio (tracks 9-11), Gysegem found experienced comrades in Giovanni Barcella on drums and Erik Vermeulen at the piano. All three we may call them gradually eminences grises of jazz and free music in Belgium. Barcella may bring years of experience in the company of such. Bart Maris and Jeroen Van Herzeele and toured in recent years with jazz icon Charles Gayle. Erik Vermeulen we like to think of his trio with Manolo Cabras and Marek Patrman, Antiduo his master apprentice Seppe Gebruers or liaison with Ben Sluijs.

The trio with Erik Vermeulen and Giovanni Barcella leaning over to his sextet traditionally, with its anchors in the free jazz of North America but also many European influences.
(NL)
Paul Van Gysegem (Berlare, 1935) kan terugblikken op een prachtig palmares en een gevarieerd oeuvre: beelden, schilderijen, tekeningen en etsen. Daarenboven is hij een zeer gedreven muzikant.

Vanaf 1965 tot 2000 was hij docent aan de Koninklijke Academie voor Schone Kunsten te Gent, en in 1982 werd hij lid van de Koninklijke Vlaamse Academie van België voor Wetenschappen en Kunsten.

Zijn sculpturen en tekeningen -met namen als Icarus, Enkidu, Gilgamesj, Isjtar of Fenix - hebben vooral te maken met de oudste tragische verhalen uit de oertijden en hun vertaling in bijna mystiek te noemen monumentale volumes. De laatste jaren werkte hij aan een reeks geschilderde partituren, de directe link met zijn muziek en passie voor geimproviseerde muziek.

Het album Aorta (1971) van het Paul Van Gysegem Sextet, vaak in één adem genoemd met Peter Brötzmanns cultalbum Machine Gun, wordt wereldwijd erkend als één van de klassiekers van de Europese free jazz. Toen eind jaren '60 heel wat sleutelfiguren van de Amerikaanse jazz, zoals Steve Lacy, Sunny Murray, Cecil Taylor, Don Cherry … de Europese contreien aandeden, kon het niet anders dan in België navolging krijgen. Zo geschiedde vooral in Gent, waar de jonge bassist Paul Van Gysegem enkele gelijkgestemde muzikanten rond zich wist te verzamelen om samen dit genre te verkennen. Hieruit vloeide het baanbrekende album Aorta voort.

In het eerste trio van Gysegem (tracks 1-8) trompet Bart Maris extraordinair en de Italiaanse dichter / zanger / performer Paola Bartoletti betrapt en improviseert. Er is een ontmoeting van twee werelden: een van de poëzie, het woord en het geluid in dialoog met deze zeer gevoelige baspeler, bekend om zijn verreaching onderzoek van vorm.

In het tweede trio (tracks 9-11) vindt Gysegem ervaren kameraden in Giovanni Barcella op drums en Erik Vermeulen op de piano. Alle drie mogen we hen stilaan éminences grises noemen van de jazz en de vrije muziek in België. Barcella kan jarenlange ervaring aantonen in het gezelschap van o.a. Bart Maris en Jeroen Van Herzeele en de afgelopen jaren toerde hij met jazz icoon Charles Gayle. Bij Erik Vermeulen denken we graag aan zijn trio met Manolo Cabras en Marek Patrman, Antiduo met zijn meesterleerling Seppe Gebruers of het duo met Ben Sluijs.

Het trio met Erik Vermeulen en Giovanni Barcella leunt naar zijn sextet van oudsher, met zijn ankers in de freejazz van Noord-Amerika maar ook met heel wat Europese invloeden.
RECORDING
Atelier Van Paul Van Gijzegem
1. Tempo Spaccato
P. Van Gysegem, B. Maris,
P. Bartoletti - 04:12

2. Err
P. Van Gysegem, B. Maris,
P. Bartoletti - 07:52

3. Un Altro Giorno
P. Van Gysegem, B. Maris,
P. Bartoletti - 07:23

4. Tribute To Lorca - Lamento
P. Van Gysegem, B. Maris,
P. Bartoletti - 8:00

5. Scarsa Visibilita
P. Van Gysegem, B. Maris,
P. Bartoletti - 04:06

6. Attraverso
P. Van Gysegem, B. Maris,
P. Bartoletti - 03:52

7. She - He
P. Van Gysegem, B. Maris,
P. Bartoletti - 02:56

8. Palaver
P. Van Gysegem, B. Maris,
P. Bartoletti - 08:31


total time cd - 46:52
LIVE CONCERT
Kasteel van Berlare
9. Spijkerschrift
P. Van Gysegem, G. Barcella,
E. Vermeulen - 12:56
10. Contrapunt voor Karin
P. Van Gysegem, G. Barcella,
E. Vermeulen - 31:30
11. Kono
P. Van Gysegem, G. Barcella,
E. Vermeulen - 09:31
total time dvd - 53:57

eNR052 © 2016


Buy CD + DVD
Buy Digital