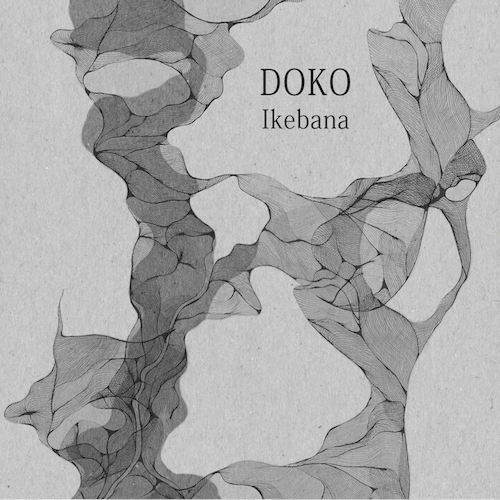 CD

Gregor Siedl - saxophone, clarinet, analog synth & drum sequencer, effects
Nicolas Chkifi - drums & percussions
Recording: Dries van Ende at Zinnema Studio on the 16th & 17th of March 2018
Mixing & Mastering: Dries van Ende
Artwork Drawing: Antonella Cusimano
Graphic Design: Istar Karamemet
Available on CD
release September 18, 2019
(ENG)
Sound artist Gregor Siedl and drummer Nicolas Chkifi have been a close-knit duo for many years with a common drive for improvisational music.

The duo brings to audiences their second release with humanized electronics and beastly batting. Whilst Nicolas has a deep rooting in jazz, African rhythms and a tendency for yoga extravaganza, Gregor´s background is in sound art, contemporary music, Marxist philosophy and botanophilia.

The bandname DOKO is based on a Japanese word that can be translated to the exclamation : « Where ? » and pinpoints the essence of their sonic ventures.

It is in the momentum of searching - navigating the unknown and finding unexpected places - that the spirit of the music finds it´s meaning and enchants the most.
"Good stuff. We're in." baze.djunkiii, Nitestylez Germany (21/05/2021)
"Het lijkt wel of we hier met een complete bigband van doen hebben in plaats van met een duo!" Ben Taffijn, Draai Om Je Oren Nederland (04/08/2020)
"Ikebana de DOKO est un album intense et bien éloigné des jardins calmes. A bon entendeur." Jacques Prouvost, Jazzques (11/04/2020)
1. Cattail I
G. Siedl / N. Chkifi - 3:12

2. Sweet violet
G. Siedl / N. Chkifi - 1:33

3. Rattlesnake Master
G. Siedl / N. Chkifi - 3:15

4. Wild Indigo
G. Siedl / N. Chkifi - 2:43

5. Switchwort
G. Siedl / N. Chkifi - 4:54

6. Blue Violet
G. Siedl / N. Chkifi - 4:32

7. Cattail II
G. Siedl / N. Chkifi - 2:41

8. Go-to-bed-at-noon
G. Siedl / N. Chkifi - 3:09

9. Sneezeweed
G. Siedl / N. Chkifi - 3:24

10. Rough Blazing Star
G. Siedl / N. Chkifi - 4:11


total time - 33:19
eNR094 © 2019
All track titles are names of wildflowers
from different habitats
Buy CD