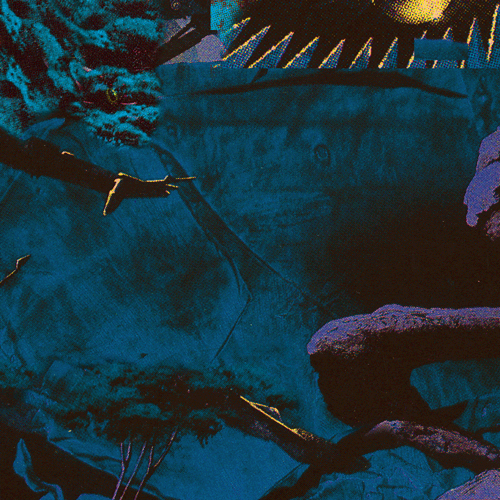 Vinyl & Splattered Vinyl

Artan Buleshkaj - baritone guitar & compositions
Rob Banken - alto saxophone & clarinet
Steven Delannoye - tenor saxophone & bass clarinet
Matthias De Waele - drums

Recording & Mixing: Jonas Everaert at Dunk!Studios, 2020
Mastering: Karel de Backer
Artwork and Layout: Benoit Vangeel
Available on Vinyl and Limited Edition Splattered Vinyl
release April 2, 2021
(ENG)
Anemic Cinema is a fresh instrumental quartet at the junction of (free) improvised music, contemporary classical and heavy metal. Created for Citadelic 2020 by guitarist Artan Buleshkaj, it features some of Belgium's most adventurous young improvisers.

The omission of a conventional bass instrument allows other instruments to assume this role (or not). This creates certain interesting compositional and improvisational challenges. The timbre distinct for (heavy) metal simultaneously provides an arousing stepping stone, enhancing the harmonics of modern jazz.

This all results in a listening experience equal parts visceral, hard-hitting and unpredictable.
(NL)
Anemic Cinema is een nieuw instrumentaal kwartet op de snee van free en geïmproviseerde muziek, hedendaags klassiek en heavy metal. Ze vervoegen de bruisende Belgische jazzscene met ongeduld. Op uitnodiging van het Citadelic Festival 2020 (Carte Blanche programma) bracht gitarist Artan Buleshkaj enkele zeer avontuurlijke jonge improvisatoren samen.

Artan heeft een duidelijk plan Door het bewust weglaten van een conventioneel basinstrument, kunnen de andere instrumenten deze rol (of niet) op zich nemen. Dit brengt interessante compositorische en improviserende uitdagingen met zich mee. Het timbre dat (heavy) metal typeert reikt daarenboven een onverwachte springplank aan, die de harmonieën van de moderne jazz versterkt.

Dit alles resulteert in een bijzondere luisterervaring, deels visceraal, keihard en onvoorspelbaar.
Press
"Une exploration intéressante!" Yves Tassin, Jazzmania (06/05/2021)
"Energie, improvisatie en instrumentale virtuositeit zoals wij die wel kunnen smaken. Een ijzersterke eerste" Björn Comhaire, Luminous Dash (02/04/2021)
"Een stevig genreslopend plaatje." Jordi De Beule, Jazz & Mo (01/04/2021)
"Anemic Cinema rules!" Dick Hovenga, Written in Music (31/03/2021) ****1/2
"Anemic Cinema, slaat je eerst de kop in met een mix van metal en vrije improvisatie (Solenoid Creatures, Poète Maudit), maar zalft ook met Lattices, een ingetogen stuk met welkom contrapunt tussen de gitaar en de blazers. Enmity danst even liefelijk verder, maar springt dan laffelijk in je nek. Shrines and Effigies rijkt naar het hogere. Kortom: Buleshkaj en co. trokken hun ogen tot spleetjes samen toen ze dit album maakten. Van venijn, maar ook van speelplezier." Bart Cornand, Knack (31/03/2021)
"Daal mee af in de ziedend hete wereld van Anemic Cinema." Marc Alenus, daPremière daMusic Telex Clip Emnity (19/03/2021)
SIDE A
1. Solenoid Creatures
A. Buleshkaj - 04:08

2. Poète Maudit
A. Buleshkaj - 06:09

3. Lattices
A. Buleshkaj - 05:10


SIDE B
4. Enmity
A. Buleshkaj - 04:27
5. Shrines and Effigies
A. Buleshkaj - 05:05
total time side A - 15:28
total time side B - 09:32
eNR103 © 2021


Vinyl

Limited Edition Splattered Vinyl
SOLD OUT