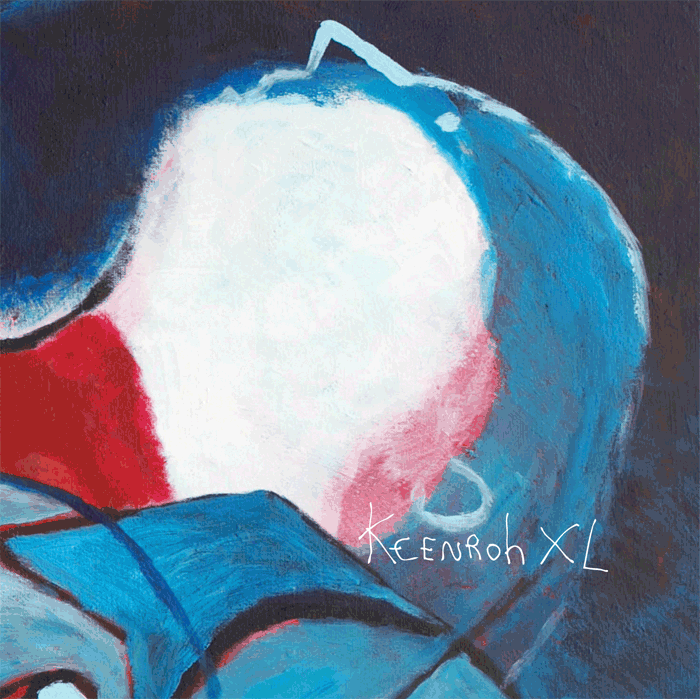 Jan Daelman - flute
Thijs Troch - piano
Bart Maris - trumpet
Marti Melia - clarinet & bass clarinet
Ruben Verbruggen - alto & baritone saxophone
Thomas Jillings - tenorsax & alto clarinet
Niels Van Heertum - euphonium
Laurens Smet - electric bass
Teun Verbruggen - drums & electronics

Recording: Christophe Albertijn at La Chapelle Studios, September of 2015
Mix & Mastering: Christophe Albertijn, Jan Daelman & Thijs Troch at Les Atelier Claus
Production: Keenroh & Rogé Verstraete
Artwork & Lay-out: Seppe Van Den Berghe
Available on CD
release November 12, 2015, the start of a Jazzlab tour
(ENG)
Keenroh, the free improv duo of Jan Daelman and Thijs Troch, has been exploring the daring combination of piano - flute in depth for a few years now. This resulted in their remarkable debut album 'Keenroh' (el NEGOCITO Records, 2014). Due to the unique and experimental way the duo approaches their instruments and through their outstanding maturity and guts, Keenroh won the Young Jazztalent Ghent price (awarded by the Gent Jazz Festival) in 2014. This allowed them to set up their ambitious Keenroh XL project, of which they now present their new album.
Keenroh XL is a 9-piece band in which Daelman and Troch surround themselves with musicians active in bands such as : Flat Earth Society, Ifa Y Xango, Linus, Os Meus Shorts, Jef Neve, Moker, ...
Initially the 'XL'-project was a collaboration with the prominent Belgian composers Kris Defoort, Ben Sluijs, Jozef Dumoulin and Bo Van Der Werf who each composed music for this particular nonet. This project had its climax on the main stage of the Gent Jazz Festival 2015.

During the evolution of this project the XL-formation created a highly personal, specific character and a unique group-sound, which roots in the interaction between the distinct personalities of the musicians. This distinct identity is exactly what the band wanted to present on this album.
The new album 'Keenroh XL' (el NEGOCITO Records, 2015) consists of a mix of compositions and improvisations with a sound that reconciles acoustic and electronic music.
The compositions Eukarist (Daelman/Troch), Doel IV (Troch) and Log (Troch) were interpreted on the spot, for the first time, during the recording sessions and are recognizable centroids when listening to the music.
(NL)
Keenroh, het improvisatie duo van Jan Daelman en Thijs Troch, diept sinds enkele jaren de gedurfde combinatie dwarsfluit - piano uit. Dit resulteerde in hun opmerkelijk debuutalbum 'Keenroh' (El Negocito Records, 2014). Door de unieke en experimentele wijze waarop het duo hun instrumenten benadert en dankzij hun opvallende maturiteit en durf, won Keenroh in 2014 de prijs Jong Jazztalent Gent (georganiseerd door Gent Jazz Festival). Dit liet hen toe hun ambitieuze Keenroh XL project op poten te zetten, waarvan ze nu het nieuwe album voorstellen.

Keenroh XL is een 9-koppige groep waarin Daelman en Troch zich omringen met muzikanten die actief zijn bij onder meer Flat Earth Society, Ifa Y Xango, Linus, Os Meus Shorts, Jef Neve, Moker, ...
Initieel bestond het 'XL'-project uit een samenwerking met de vooraanstaande Belgische componisten Kris Defoort, Ben Sluijs, Jozef Dumoulin en Bo Van Der Werf die elk instonden voor het componeren van muziek op maat van het nonet. Dit project kende zijn apotheose op het hoofdpodium van het Gent Jazz Festival 2015.

Tijdens het uitwerken van dit project ontwikkelde de XL-formatie een zeer eigen specifiek karakter en unieke groepsklank, die hun oorsprong vinden in de interactie tussen de uitgesproken persoonlijkheden van de muzikanten. De groep presenteert nu een album waarop deze eigenheid de hoofdrol speelt.

Het nieuwe album 'Keenroh XL' (El Negocito Records, 2015) bestaat uit een mix van composities en improvisaties met een klankspectrum dat de brug maakt tussen akoestische en elektronische muziek.
De composities Eukarist (Daelman/Troch), Doel IV (Troch) en Log (Troch) zijn tijdens de opnamesessie al improviserend geïnterpreteerd door het nonet en zorgen voor herkenbare ankerpunten doorheen de cd.
Press
"Keenroh XL duurt hooguit 33 minuten, maar heeft meer te bieden dan veel andere cd's die twee keer zo lang duren." Peter De Backer, Jazzmozaiek nr.1 2016 (14/03/2016) ****
"Spennende og interessant!" Jan Granlie, Salt Peanuts (19/12/2015)
"Het zorgt voor een verrassend diverse en kleurrijke plaat." Joachim Ceulemans, Enola.be (13/11/2015)
"Keenroh zet zich in meerdere gedaanten door als een overtuigende speler in het jazzlandschap." Danny De Bock, Jassepoes
1. Eukarist
J. Daelman, T. Troch - 06:28
performers: Keenroh XL

2. Gneep
Impro Keenroh XL - 01:42
performers: T. Troch, L. Smet, T. Verbruggen

3. Klinge
Impro Keenroh XL - 01:36
performers: J. Daelman, T. Troch, B. Maris,
L. Smet, T. Verbruggen

4. Messe
Impro Keenroh XL - 01:16
performers: B. Maris, M. Melia, R. Verbruggen, L. Smet

5. Doel IV
T. Troch - 04:44
performers: Keenroh XL

6. klAACH
Impro Keenroh XL - 02:17
performers: M. Melia, B. Maris, R. Verbruggen,
N. Van Heertum, T. Jillings

7. HuiH
Impro Keenroh XL - 01:42
performers: J. Daelman, T. Troch, B. Maris,
M. Melia, L. Smet, T. Verbruggen

8. Widt
Impro Keenroh XL - 03:32
performers: Keenroh XL

9. Nooom
Impro Keenroh XL - 01:10
performers: L. Smet

10. Meneertje Kleintand
Impro Keenroh XL - 02:13
performers: N. Van Heertum, R. Verbruggen,
T. Troch, T. Verbruggen

11. Log
T. Troch - 04:30
performers: Keenroh XL

12. Lloos
Impro Keenroh XL - 00:56
performers: Keenroh XL


total time 33:03
eNR043 © 2015


Buy CD
Buy Digital