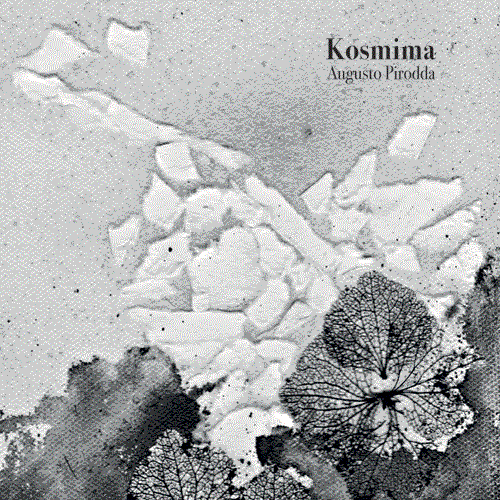 eNR081: Kosmima by Augusto Pirodda
Georges Tonla Briquet, Jazz'Halo (16/07/2018)
De Brussels-Italiaanse pianist bracht al een eerste soloplaat uit in 2007 ('Moving'). Voor de tweede keer trok hij een studio in om zonder begeleiders een opname te maken. Daartussen waren er wel een aantal releases in kwartet evenals de trio-cd met Gary Peacock en Paul Motian ('No Comment').

'Kosmima' bevat veertien muzikale polaroids, hoofdzakelijk badend in vale tinten. Opvallend hoe hij soms heel beredeneerd en haast in slow motion de linkerhand aanwendt om subtiele accenten te leggen zonder uit te monden in ritmisch geweld. In schril contrast met al de rest is er 'Thrilling', meteen de gepaste titel bij het meest spannende moment.

Soundtrack voor een poging tot onthaasting.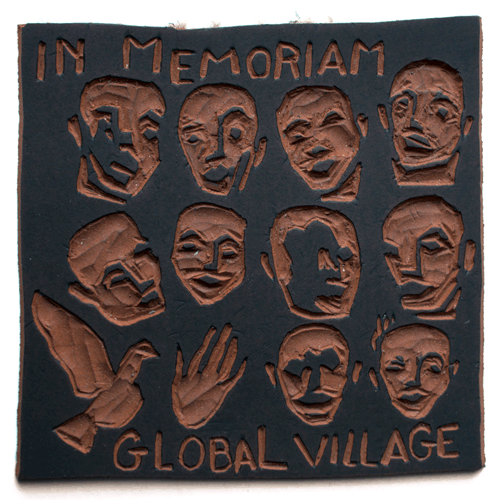 eNR069: in memoriam global village by Gunda Gottschalk, Xu Feng Xia & Peter Jacquemyn
Georges Tonla Briquet, Jazz'Halo (04/07/2018)
Voor wie zich eens wil wagen in de Bermuda driehoek gevormd door hedendaags klassiek, Chinese avant-garde en improvisatie met een punkrandje, tippen we op deze opname. Drie snarenspelers elk met hun instrument (viool, ghuzeng, contrabas) zoeken toenadering vanuit verschillende invalshoeken. Er ontspint zich een wirwar van denkpistes maar als echte sjamanen weten de drie steeds een remedie te vinden. Onwillekeurig duiken beelden op uit de film 'Die Blechtrommel'. Om maar te zeggen dat dit zeker niet de soundtrack is van een onderhoudende gezinskomedie.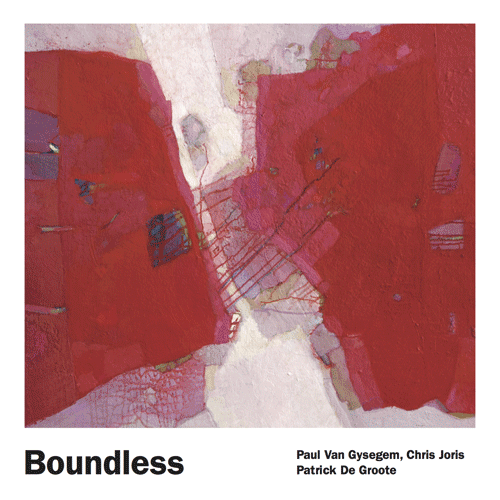 eNR065: Boundless by Patrick De Groote / Chris Joris / Paul Van Gysegem
Georges Tonla Briquet, jazzenzo jazzmagazine (27/06/2018)
Nu de Parijse studentenrevolte van mei 1968, die voor een culturele omwenteling zorgde, na vijftig jaar weer in de culturele actualiteit staat, krijgt de Vlaamse contrabassist en beeldend kunstenaar Paul Van Gysegem hopelijk opnieuw wat meer aandacht. Met twee uitgaven die wat onder de radar bleven, is daar alle reden voor.

Van Gysegem was er bij sinds begin jaren zestig. De nieuwe stromingen, avant-garde, free jazz en performances, hij stond telkens op de eerste rij. Een halve eeuw later blijkt hij nog steeds genoeg ideeën te hebben.

Voor 'Boundless' trok hij binnen een jaar drie dagen de studio in samen met percussionist Chris Joris en compagnon van het eerste uur trompettist Patrick De Groote, om vier trio-stukken en vijf duo's in te blikken. Afhankelijk van de data is Joris te horen op drums, percussie, ngoma handtrom en zelfs piano terwijl De Groote het houdt bij trompet en flugelhorn. Van Gysegem blijft trouw aan zijn contrabas.

Echt voorbereidend werk was er niet. Wel hadden de drie hun bagage van jarenlange ervaring als improviserende muzikanten. De negen nummers noemen ze dan ook geen composities maar 'instantaneous improvisation'. "Een wonderbaarlijke reis, tegendraads, terwijl duizenden klankflarden de hemel vullen met nieuwe geluiden, tekens en eeuwige gebaren," aldus Van Gysegem.

Het zijn verhalen die je als luisteraar het beste zelf ontdekt. Afhankelijk van je achtergrond duiken beelden en percepties op. De zacht zoemende geluiden, de krachtige stroomstoten, de alliteratie van noten, de korte solomomenten, de chaotische climax, het zijn aanleidingen om je fantasie te stimuleren. Een handleiding krijg je niet van deze heren. Het is genieten, elk op zijn eigen manier.

Je kan het ook vergelijken met een hoorspel waarbij de drie hoofdpersonages afwisselend overleggen, filosoferen, met elkaar in de clinch gaan om uiteindelijk toch steeds tot een vergelijk te komen. Imponerend hoe ze telkens weer samen convergeren naar eenzelfde punt.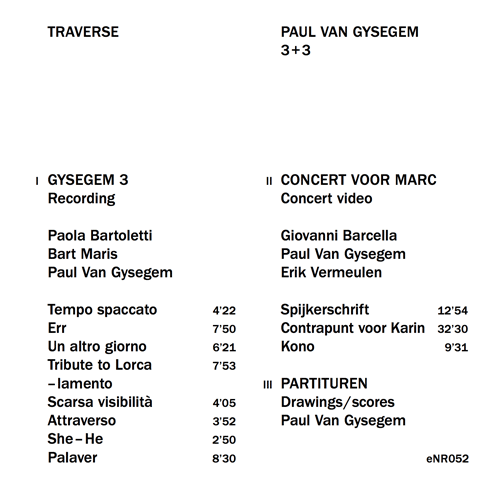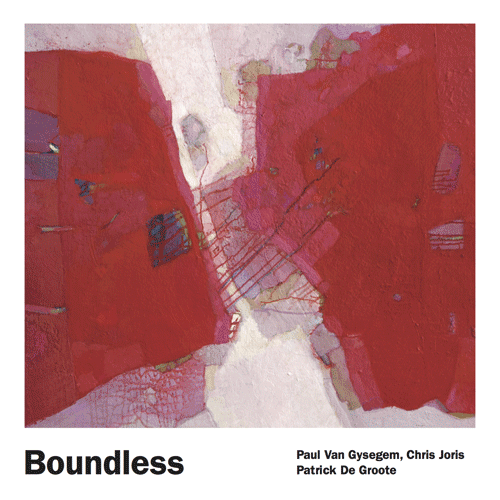 eNR052: Traverse by Paul Van Gysegem 3 + 3
eNR065: Boundless by Patrick De Groote / Chris Joris / Paul Van Gysegem
Peter Van Laarhoven, United Mutations (24/06/2018)
Two years ago, the Belgian Negocito record label released two trio concerts by artist, painter, sculptor, double bass player Paul Van Gysegem. Actually, it was one album that consisted of one CD (Paola Bartoletti, Bart Maris and Paul Van Gysegem) and one DVD (video recording with Giovanni Barcella, Eric Vermeulen and Paul Van Gysegem). Two beautiful concerts in one package.

Last year, Negocito Records added another fine release to Paul Van Gysegem's discography. This time, the ensemble is made up of percussionist Chris Joris, trumpet player Patrick De Groote and Paul Van Gysegem on double bass. All three musicians are well-known in the Belgian free jazz / improvised music scene. Paul De Groote even played with Paul Van Gysegem on his "Aorta" album in 1971 !!

For "Boundless", the trio got together for three separate days. One in November 2015, one in May 2016 and one in August 2016. The result is an impressive, energetic album on which the musicians explore and communicate. Boundless, if I may say so.

Recommended listening.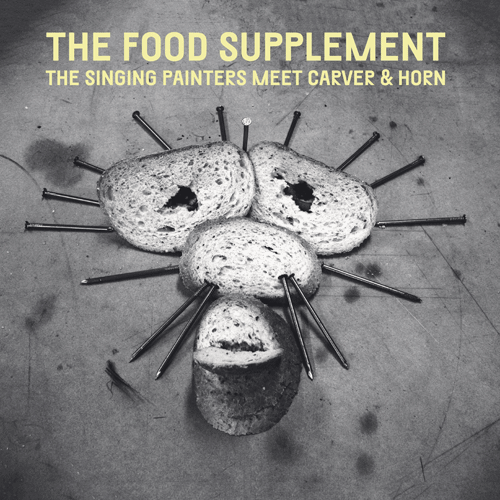 eNR056: The Food Supplement by The Singing Painters Meet Carver & Horn
Georges Tonla Briquet, Jazz'Halo (01/06/2018)
Een plaat die tot nu toe niet echt de aandacht kreeg die ze verdiende. Dat het om de registratie gaat van een live improvisatieconcert, heeft daar waarschijnlijk een en ander mee te maken. Voor de liefhebbers nochtans een absolute aanrader.

Het verhaal van The Singing Painters begon twintig jaar geleden met Laura van (vocals), Michaël Borremans (!) op gitaar en Merlyn Paridaen als drummer. Na wat meningsverschillen en personeelswissels werden knopen doorgehakt en ontstond The Singing Painters Meet Carver & Horn met nog steeds Laura van en Merlyn Paridaen, nu in gezelschap van Bart Maris, Peter Jacquemyn en Mathias Van De Wiele.

Op 28 mei 2016 kwamen ze samen in Croxhapox (Gent), lieten alle remmen los en improviseerden voluit. Duidelijk een memorabele avond waarop ze allemaal in topvorm verkeerden. Er wordt constant gedialogeerd en uitgedaagd maar telkens met het besef waar de limiet ligt wanneer het geen zin meer heeft om over een bepaald punt verder te redetwisten.

De openingstrack klinkt alsof de mannen van Monty Python verdwaalden in improvisatieland. Meteen al een heel extreme introductie. Van hieruit gaat het steeds harder en rauwer maar telkens ook met respect en aandacht voor elkaar. Er gebeurt zoveel dat het onmogelijk is om hier alles te beschrijven. Vooral Bart Maris en Mathias Van De Wiele gingen er helemaal voor terwijl de fulminante vocalen van Laura van hartverscheurend weerklinken.

Een amorfe geluidssculptuur en meteen ook een krachtig en provocerend statement volledig volgens de visie van el NEGOCITO.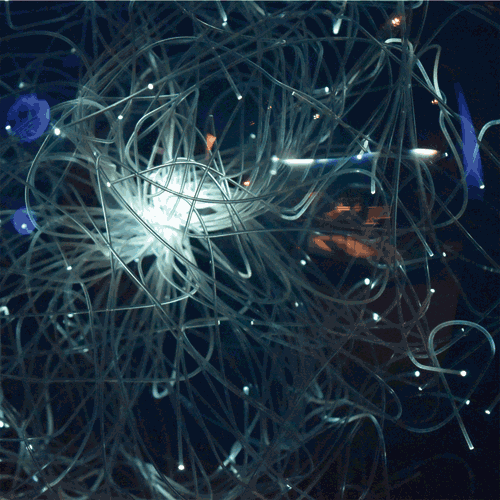 eNR064: The Ear Cannot Be Filled With Hearing by Giovanni Di Domenico & Abschattungen
Georges Tonla Briquet, Jazz'Halo (26/04/2018)
De ene bigband is de andere niet maar de shapeshifters van Giovanni Di Domenico & Abschattungen vormen echt wel een buitenbeentje.

Toetsenist Giovanni Di Domenico is een van de spilfiguren uit de alternatieve improvisatiescene in Brussel. Hij is tevens een all round muzikant en producer en heeft zijn eigen label, Silent Water. In 2017 was hij gelinkt aan zomaar liefst negen releases met als meest opmerkelijke zijn soloplaat 'Insalata Statica'.

Wat 'The Ear Cannot Be Filled With Hearing' betreft, stond hij in voor productie, opname, mixing, hoesfoto en leverde hij alle composities (vier in totaal, twee langs elke plaatkant).

Kant A begint met 'Infra-Thin' (12'43). Uit de nevelen van het fifties sciencefiction decor duiken langzaam piano- en drumklanken op waarna een mini big bang in slow motion ontstaat. Laag na laag wordt een andere dimensie opgebouwd.

'Tugkanon & Lekton' (8'03) is van een andere planeet. Poëtische pianonoten met aansluitend intimistische trompetklanken leiden geleidelijk aan tot een cocon van stilte die heel subtiel doorbroken wordt door allerlei kleine (wah wah)effecten. Het lijkt een spel van losse pionnen die zich willekeurig verplaatsen maar elkeen houdt zich duidelijk aan welbepaalde spelregels. Frontale confrontaties worden vermeden, het is vooral een techniek van steeds verder uitdiepen en aftasten.

Op Kant B is 'Instruments Of Darkness' (9'41) de eerste titel. Een licht psychedelische groove vervliegt na zowat een halve minuut en de luisteraar belandt opnieuw in een wereld van spielereien en bizarre kronkels. De piano levert een kort interludium waarna het puzzelwerk verdergezet wordt.

Alles eindigt met 'Apophenia' (10'58) in een rustig Oosters sfeertje met wat vocalen en dwarrelende pianonoten. Om uiteindelijk te belanden bij een gelijkaardige chaos van het begin.

Di Domenico deed wat Ellington ooit zei: "Een goede compositie begint bij de keuze van de juiste muzikanten." Met onder meer Laurent Blondiau, Daniele Martini, Giotis Damianidis en Jordi Grognard koos hij dan ook topmuzikanten uit de Brusselse scene.

Waaronder klasseer je nu dit alles? Metafysisch gestructureerde freejazz met een knipoog naar zowel Pink Floyd als Frank Zappa? Of een fascinerende "loop" al even complex en buitengewoon als deze waar de kinderen van Miss Peregrine in ronddolen? Ideale soundtrack dus om er de trilogie van Ransom Riggs ('Miss Peregrine's Home For Peculiar Children') bij te lezen. Zeker ook voor fans van Miles zijn 'Bitches Brew' (de vierdelige cd-box). Kortom, "mood music" boordevol modulaire wendingen. Di Domenico zelf citeert graag 'Lanquidity' van Sun Ra en het Italiaanse collectief Gruppo di Improvvisazione di Nuova Consonanza als inspiratiebronnen.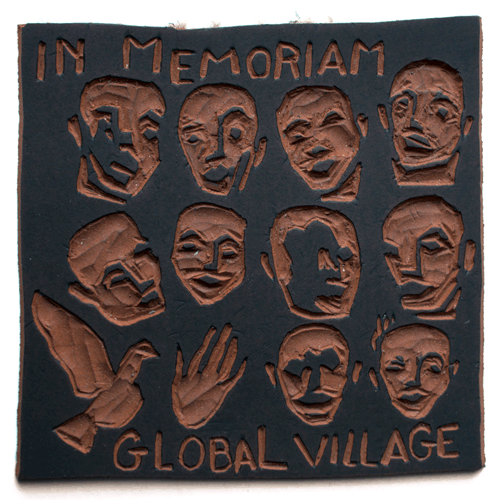 eNR069: in memoriam global village by Gunda Gottschalk, Xu Feng Xia & Peter Jacquemyn
Le Vif Focus (26/04//2018)
Gunda Gottschalk (violon, alto, voix), Xu Feng Xia (guzheng, voix) et Peter Jacquemyn (contrebasse, voix) forment un trio né de la fréquentation de l'un des grands contrebassistes de l'Histoire du jazz et de la musique improvisée. Personnalité charismatique, pédagogue inspiré, Peter Kowald a été le maître informel et bienveillant de nombreux musiciens qui perpétuent aujourd'hui, pour les plus créatifs, l'esprit plutôt que la lettre de la free music. Ce disque, réunissant trois de ses disciples, tous improvisateurs de haut vol, est un splendide hommage au disparu (en 2002, à 58 ans), décliné en douze parties (en duo, trio et solo) d'une qualité musicale née de l'extrême attention que chacun porte à l'autre. Splendide et incontournable.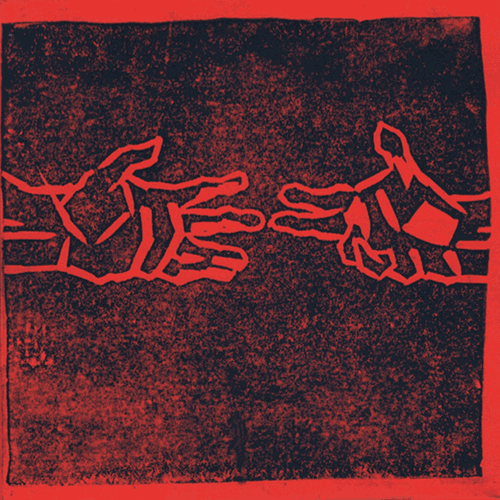 eNR066: Non É Prohibito by duo Periculoso
Le Vif Focus (26/04//2018)
Tous deux élèves (libres) et partenaires de Peter Kowaltd (de son vivant le plus grand des bassistes free de la scène européenne avec l'Anglais Barry Guy), Gunda Gottschalk (violon, alto, voix) et Peter Jacquemyn (contrebasse, voix) se sont naturellement associés après la disparition du maître au sein d'un duo (et parfois d'un trio, en compagnie de l'accordéoniste Ute Volker) dédié à la liberté musicale. Qui a déjà eu l'occasion de voir Jacquemyn sur scène n'a pu qu'être bluffé par l'incroyable débauche d'énergie dont il fait montre dans un corps-à-corps constant avec sa contrebasse dont il sort des sons inouïs. Entre musique et happening, ses performances ne sont pourtant jamais aussi étincelantes que lorsqu'il joue avec Gunda, son âme soeur, leurs rencontres, toujours empreintes d'une grande musicalité, fusionnant musique contemporaine, bruitisme, jazz et, surtout, improvisation libre. Ce disque en constitue la démonstration parfaite à travers un voyage ( Viaggio) décliné en séquences servies par une belle prise de son. Les deux musiciens, qu'ils jouent de leurs instruments ou utilisent, parcimonieusement, la voix -de gorge et proche des polyphonies mongoles pour le contrebassiste- se situent, ici, au sommet d'un talent collectif éclatant et quasi télépathique.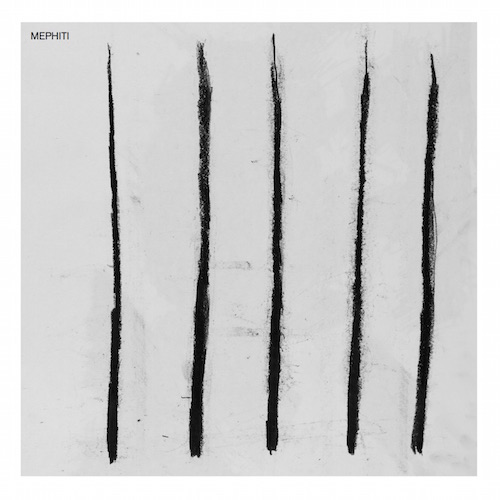 eNR082: s/t by Mephiti
Eyal Hareuveni, Salt Peanuts (22/04/2018)
Mephiti is a new Belgian sextet, led by alto sax player Erik Bogaerts, known from local groups as Llop and Les Chroniques de l'Inutile. With Mephiti, Bogaerts suggests a set of dreamy and lyrical textures that rely on the unique interplay of guitarists guitarists Bert Cools, on semi-acoustic and electric guitars and synthesizer, and Ruben Machtelinckx, on the electric guitar; complemented with the zither-like, string instrument, Kanklės, played by Lithuanian musician Indrė Jurgelevičiūtė, the solid double bass of Brice Soniano and the rustling game of drummer Stijn Cools gives it all a wayward edge.

Mephiti self-titled, debut album was recorded on December 2016 and released as a limited-edition of 300 vinyls plus digital download options. The impressive artwork draws from Dewi De Vree & Jeroen Uyttendaele work 'Ground', an audiovisual performance in which graphite drawings are used as a control interface for several electronic instruments.

The suggestive artwork captures beautifully the atmosphere of Mephiti music, flowing with a strong melodic sensibility, nuanced, thoughtful and earthy. The guitars, kantele and the bass anchor the lyrical theme while Bogaerts' breathy sax soars above and Stijn Cools drums color this melody with light touches. The string instruments offer a light, breezy West-African vibe on «Hymne I», that allow Bogaerts and Stijn Cools to dance with, and an enigmatic, cinematic-like, minimalist pulse on «Hanneke» and «Krevelstraat».

Jurgelevičiūtė opens the second side with the folky meditation «Hymne II». Llater its peaceful, melodic theme is expanded by the distant guitars of Machtelinckx and Cools and the caressing sax of Bogaerts. «Lenaé» deepens this pastoral, lyrical vein and captures it in a gentle-swinging song. «Oude steenweg» is a surprising, exceptional texture in this album, with its ritualistic, resonant pulse of the drums and bass, but the last piece, «Kat kreupel» captures again the dreamy, comforting spirit of this promising group and album.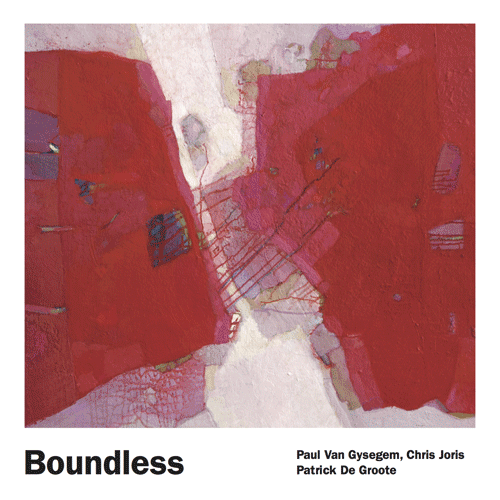 eNR065: Boundless by Patrick De Groote / Chris Joris / Paul Van Gysegem
Bernhard Oskar, Spielhaltungen, angespielt #001 (28/03/2018)
Gemein mit anderen Prozessen sozialer Interaktion ist der Dynamik der freien Gruppenimprovisation die Anlage, infolge fehlenden gemeinsamen Vokabulars und divergenter Persönlichkeitsmerkmale zu ausweglosen Spannungen und voneinander getrennten Sphären, anstatt zu einem homogenen Ganzen und musikalischem Einvernehmen zu führen. Wenngleich unauflösbare Konflikte zweifelsfrei in außerordentlich reizvollen Hörereignissen münden können, stellt die Emergenz eines spontanen Gruppenkonsens immer einen Vorgang besonderer Qualität dar.

Auch wenn sich für das Gelingen eines solchen Einklangs mit Sicherheit kein allgemeingültige Leitfaden formulieren lässt, so ist wohl unwiderlegbar, dass ideale Kommunikatonssituationen zumindest als Katalysator eines solchen fungieren. Dies verdeutlicht der hier stellvertretend für das Album "Boundless" angespielte Titel "Talking" auf nahezu paradigmatische Art und Weise.
Es mag der Reife der international zu wenig rezipierten Belgier geschuldet sein – Bildhauer und Bassist Paul Van Gysegem, der seine Wurzeln im Free Jazz der 1960er Jahre hat, Trompeter Patrick De Groote, der ab 1966 Ensemblepartner in Van Gysegems Sextet war und Percussionist Chris Joris, ebenfalls bereits in den 1960er Jahren an der Seite von Fred Van Hove spielend – dass es ihnen die Herstellung eines solchen idealen kommunikativen Rahmens, der den Partnern notwendige Freiräume öffnet und zugesteht, die feine Balance zwischen Ab- und Unabhängigkeit hält und allen Ensemblemitglieder gleichberechtigte Teilhabe garantiert, scheinbar mühelos gelingt — jedenfalls verdichten sich die individuellen Erfahrungsschätze und Präferenzen der beteiligten Akteure über die Spieldauer des Albums zu einem geteilten musikalischen Idiom, das die titelgebende Grenzenlosigkeit weniger als Unmaß nebeneinander stehender ästhetischer Spezifika erscheinen, sondern als Potential eines offenen, partizipativen Kommunikationsrahmens begreifen lässt."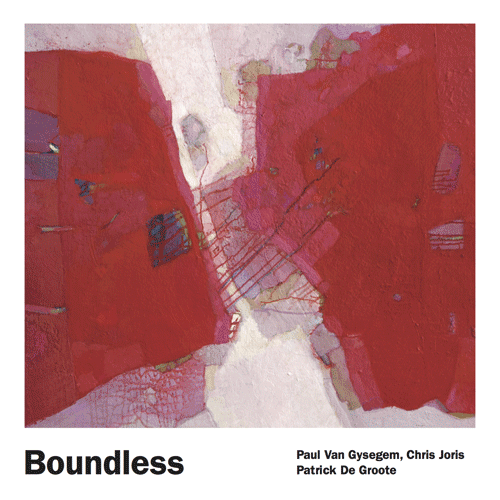 eNR065: Boundless by Patrick De Groote / Chris Joris / Paul Van Gysegem
Stef, The Free Jazz Collective (26/03/2018) ****½
This review was long due. A fantastic trio album that's been listened to dozens and dozens of times during traffic jams, during smooth traffic and at home, with more time and attention. And attention and time is what this music deserves. It's a set of nine tracks of free improvisation between Belgium's veteran jazz musicians.

Paul Van Gysegem plays bass. He is a visual artist - both painter and sculptor - and a musician with roots going back to the early free jazz period in the 60s, including the organisation of avant-garde festivals. Van Gysegem released "Aorta", his first sextet album, already in 1971. He played with Lacy and Waldron, and of course also with Fred Van Hove, Belgium's first real avant-garde improv pianist. Chris Joris is a percussionist, pianist (as on some tracks on this album) and educator, incredibly knowledgeable about African rhythms and instruments. Patrick De Groote plays the trumpet. Again, he's not very well known internationally, but he was already a member of the above mentioned sextet in 1971. Together, they are around 220 years old.

Some fifty years later, they meet again to deliver this wonderful album of freely improvised pieces, four in trio format and five duets between trumpet and bass. It is exceptional for a number of reasons. First, the music is solid: determined, open-ended, sensitive, respectful, crisp, creative. Second, this is today's music, and very much so: little stories evolve with only one purpose: to co-create quality music in the moment. No need for structure or patterns, just interactive explorations that each remain focused and coherent. Third, it is so full of energy and joy: you can feel how the musicians like it themselves. There is nothing 'tired' here, quite to the contrary, it's fresh, young in spirit and approach. It doesn't sound like their zillionth performance. It sounds like they're full of enthusiasm to start something new. Fourth, it's incredibly entertaining too. Despite the limited line-up, ideas abound, and the high quality is maintained throughout. And fifth, the sound quality is also very good.

It is boundless, as its title suggests. And what a pity that their published output is so limited."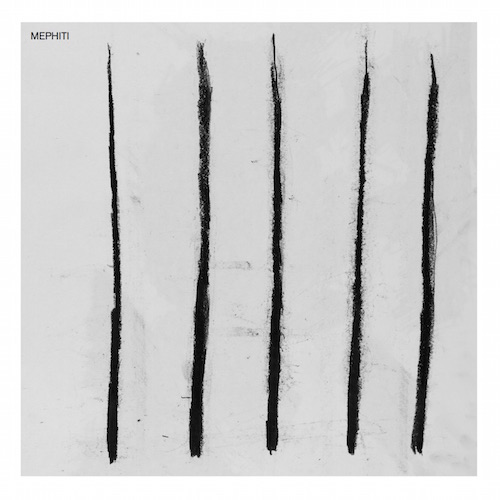 eNR082: s/t by Mephiti
Joseph « YT » Boulier, Jazzaroundmag.com (20/03/2018)
Le concept Mephiti s'articule autour du saxophoniste gantois Erik Bogaerts, par ailleurs leader au sein de la formation de jazz ambient Llop. La musique de ce sextet atypique (outre le saxophone et la section rythmique, on note la présence de deux guitaristes et d'une harpiste) se meut doucement, par petits pas et par petites touches, dans un climat quasiment dub, chuchotant l'éloge de la lenteur. On imagine facilement chaque musicien, recroquevillé et concentré sur son instrument, dont il tire des sons personnels qui construiront patiemment l'édifice. Ici, il n'y aura aucune envolée. La section rythmique est volontairement discrète, les soli d'Erik Bogaerts sont soufflés tout en retenue. La musique de Mephiti, aussi belle soit-elle, ne se vit pas : elle se subit, en ce sens qu'elle exige de l'auditeur un lâcher-prise profond.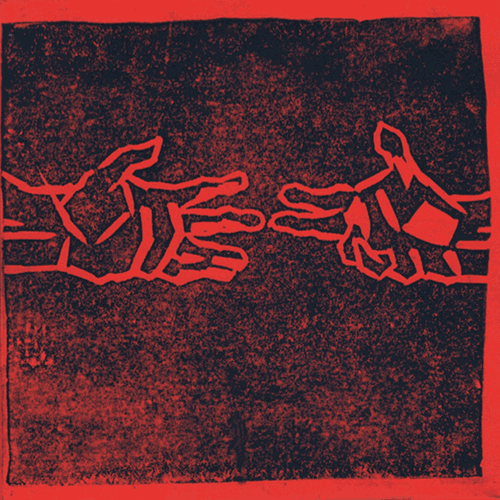 eNR066: : Non É Prohibito by Duo Periculoso
Ian Patterson, All About Jazz (13/03/2018) ****
The collaboration between violinist Gunda Gottschalk and bassist Peter Jacquemyn dates back to 1995, with the duo expanding to a trio in the live arena with the addition of accordionist Ute Völker. Non é Prohibito (el NEGOCITO Records, 2017) is only the duo's second recording and comes eighteen years after E Pericoloso Sporgersi (Valve Records, 1999). It's undoubtedly a hefty gap, although both musicians are busy in multiple settings -Jacquemyn most frequently in ensembles with alto saxophonist/bandoneon player André Goudbeek, and Gottschalk in the quintet Partita Radicale. As on their debut recording, Gottschalk and Jacquemyn once again dive headlong into entirely improvised dialog, with striking results.

The seven viaggi—or journeys—stem from free-jazz, an arena well familiar to both: Jacquemyn has played with the likes of Michael Moore, Tony Oxley, Peter Kowald and Barre Phillips, while Gottschalk's collaborations include guzhêng player Xu Feng Xia, William Parker, Susie Ibarra and Fred Frith. It's hardly surprising, therefore, that these improvisations are so fiercely uncompromising. In addition to violin, Gottschalk also attacks the strings of a viola, though only occasionally, on the most lyrical interludes, is it possible to distinguish the one from the other. Jacquemyn, in the main, works his bow, and both musicians employ wordless vocals, from nasal drone to something akin to a guttural, monastic mediation. Such articulations, however, are sparingly aired.

The pizzicato spluttering and sawing bowed bass of "Viaggio I" combine with frenetic energy and nerve-shredding effect like the soundtrack to some dystopian nightmare. Much of the music throughout is discordant and angular, the duo's healthy disregard for convention resulting in sounds that are, as on "Viaggio ii," evocative in turn of creaking wood, didgeridoo and animalistic mewling and growling. This is music, above all, that works on the nerves, emotions and one's imagination. For Gottschalk and Jacquemyn, as the album title suggests, nothing is out of bounds. There are also passages of quietly spun reverie, although the softly voiced interplay at the outset of the sixteen-minute "Viaggio iii" gradually evolves into a lunatic jig, the faintly sketched melodic lines themselves dissolving into more abstract sounds that maintain a tension, though not an easily discernible form, until the end.

Gottschalk and Jacquemyn embark in tandem, if not quite in unison, on "Viaggio iv," the arresting harmonics of their boldly interweaving lines repeatedly punctuated by islands of silence. The duo's maze-like paths are entirely unpredictable, though the very real sense of mutual purpose never diminishes as they spur each other on. The fractured narrative of "Viaggio v" is a tale of shifting moods. Beginning with a musical tit-for-tat, the duo exchanges staccato phrases like children's teasing mimicry; the soundscape then changes to urgent, car-horn brashness before the duo finds harmony in a gentle, melodic fade-out.

"Viaggio vi" a scratchy, fidgety affair, sees Gottschalk gravitate towards the violin's upper registers as Jacquemyn heads the opposite way with his bass. The duo signs off with "Viaggio vii," arguably the album's most atmospheric improvisation. Here, viola and bass carve out overlapping drones, Jacquemyn's barely wavering as Gottschalk's own evolves into a dark melody that compounds the sinister ambiance.

Non e Prohibito is an intense, challenging and liberating sonic journey, akin to passing through ever-changing scenery of an imaginary world. Thrilling and surprising in equal measure, it's also just a little disorienting. For those prepared to stay on board for the duration, however, and then willing to revisit Gottschalk and Jacquemyn's brave sonic world, the results are uniquely stimulating.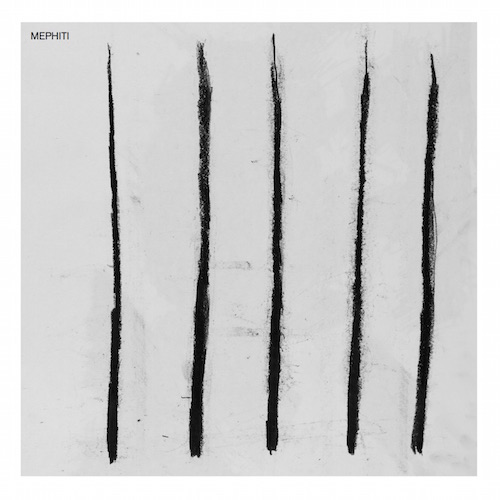 eNR082: s/t by Mephiti
Dave Sumner, The Best Jazz on Bandcamp: February 2018 (07/03/2018)
If there's a takeaway to this enchanting album from Mephiti, it's that there are countless ways to expressing a state of serenity. There's the melodic sigh of "Shilly," the raindrop pulse of "Hymne I," the emerging sunrise of "Hanneke," and the descent into night of "Krevelstraat." Mephiti swings between tranquility and liveliness; occasionally, it feels like a reinterpretation of Bill Frisell's dreamier solo projects. The quintet is rounded out by alto saxophonist Erik Bogaerts, guitarist Ruben Machtelinckx, guitarist Bert Cools, double bassist Brice Soniano, and Indrė Jurgelevičiūtė on kantele (a five-stringed instrument that possesses the grace of a harp and the punch of a kora).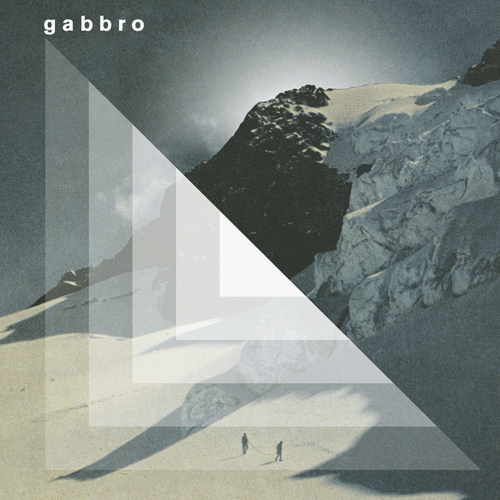 eNR060: s/t by g a b b r o
Jean-Claude Vantroyen, Mad, Le Soir (07/03/2018)
Le gabbro est une roche plutonique magmatique, à texture grenue. On l'utilise comme pierre de taille. Ou pour en faire des brise-lames. Le nom du duo composé de deux saxophonistes barytons, Hanne De Backer et Marc De Maesener, est donc bien pensé. Leur musique est grenue comme de la pierre et renvoie à des âges géologiques, quand le gabbro se formait : plaintes, explosions, silences, cris et tourbillons, orages et cataclysmes. Mme Hanne et M. Marc explorent outre les possibilités sonores et chromatiques du bary- ton et créent un dialogue improvisé. Sur la base traditionnelle du jazz et du free-jazz, mais en s'en échappant aussi parce qu'il faut exploser les structures, ce qui lui donne une atmosphère réso- lument contemporaine et profonde. Maintenant, c'est vrai, il faut aussi parfois s'accrocher. Mais laissez-vous aller, rentrez dans les vagues de cette musique et vous serez fascinés.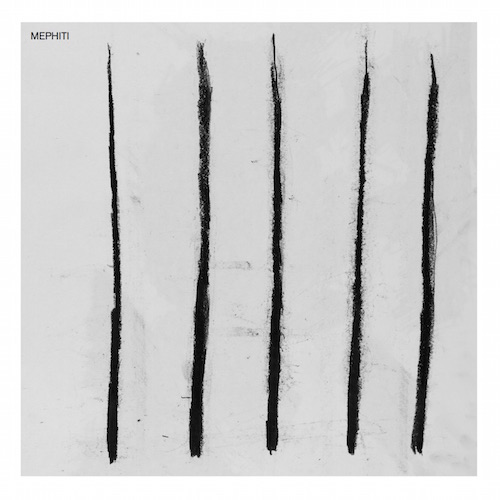 eNR082: s/t by Mephiti
Opduvel.com (05/03/2018)
In België bestaat een bloeiende jazzscene, bestaande uit pure muzikanten die met succes verschillende aspecten van het muzikale spectrum verkennen. Een voorbeeld van de meer uitbundige kant van de jazz is Stuff., dat met zijn elektrische en ritmisch complexe muziek hoge ogen gooit. De Beren Gieren stoeit ook met elektronica, al blijft dat in de eerste plaats een pianotrio. Daarnaast is een aantal muzikanten in de weer met meer bedachtzame en ingetogen muziek, zoals euphoniumspeler Niels van Heertum (Veder) en gitarist Ruben Machtelinckx.

Machtelinckx vinden we terug in Mephiti, dat onder leiding staat van altsaxofonist Erik Bogaerts. Hij maakt(e) deel uit van Banjax, Kvartett, Llop, Les Chroniques De L'Inutile en Book of Air: vvolk en daarnaast is hij solo actief. De saxofonist is niet alleen in zijn thuisland actief; hij was ooit artist in residence in het Zweedse dorpje Harlösa in 2014 en met Llop nam hij in Zweden een album op, in een kerk uit het jaar 1100. Een Scandinavische connectie is ook terug te horen in de muziek van Mephiti.

De bezetting van het sextet is een aparte. De drums worden bespeeld door Stijn Cools en de contrabas door Brice Soniano. Naast Machtelinckx is in de persoon van Bert Cools nog een tweede gitarist van de partij. Het sextet wordt gecompleteerd door Indrė Jurgelevičiūtė, een muzikante die de kanklès bespeelt, een Litouwse harp die te vergelijken is met een citer. Vooral de muzikanten op de snaarinstrumenten, die ieder een eigen klankkleur hebben, geven Mephiti een eigen geluid mee.

De muziek van het zestal klinkt zorgvuldig, goed doordacht en fijnbesnaard. Het is geen muziek die zich opdringt door noisy uitspattingen, gloedvolle solo's of zich alsmaar herhalende motieven. De composities van de hand van Bogaerts (vijf) en het sextet (drie) bieden de muzikanten ruimte om hun klanken op elkaar te laten inwerken, als op natuurlijke wijze. Er zijn momenten waarop een van de instrumentalisten het voortouw neemt, niet met als doel nadrukkelijk op de voorgrond te treden, maar om de compositie recht te doen.

Die composities zijn, hoewel toegankelijk, geen heel eenvoudig te consumeren stukken muziek. Daarvoor zitten de acht stukken op het album iets te complex in elkaar. Er wordt van de luisteraar wel enig concentratievermogen verlangd. Wie de rust heeft en de tijd neemt om de muziek op zich in te laten werken, wacht echter een kleine drie kwartier met bedwelmend mooie muziek.

Opener 'Shilly' toont direct de pure muzikale pracht van Mephiti, startend met het akoestische samenspel van gitaar en kanklès. Bogaerts toon op altsax is warm, mede door het gebruik van veel valse lucht, waardoor ruis een belangrijk onderdeel vormt van het gevoelvolle spel. Mooi is ook de unisono gespeelde melodie door gitaar en sax op het eind. Iets vlotter gaat het eraan toe in 'Hymne I', dat met zijn aanstekelijke ritmiek het meest in het oog springende stuk op de plaat is. Opvallend is het spel op de cimbalen van Cools en het doorlopend patroon van Soniano op de contrabas. De gitaren en kanklès vullen elkaar perfect aan, terwijl ieder zijn individuele stem behoudt.

In 'Hanneke' wordt een motief gespeeld door een van de gitaristen, terwijl de drums druk in de weer zijn, later samengaand met de basic noten van de contrabas, waar Bogaerts vervolgens zijn simpele maar doeltreffende melodieuze spel overheen legt. De saxofonist/componist hoeft niet elk gaatje te vullen en geeft veel ruimte aan zijn ritmisch in de weer zijnde medemuzikanten. 'Krevelstraat' opent met een paar stevige drumslagen, voordat het stuk in rustig vaarwater terecht komt. Het stuk is een fraai staaltje instant composing waarin subtiele experimenten zitten verwerkt.

Jurgelevičiūtė verzorgt de melodische opening van 'Hymne II', gevoelvol begeleid door Machtelinckx en Cools op gitaar en later ook door de gestreken klanken van Soniano. De melodie van de altsax is langzaam, bestaande uit alleen de noodzakelijke noten. Halverwege krijgt het stuk meer beweging, door de ruisende bekkens en met brushes bespeelde snare van Cools, later overgaand op tikken met de tromstok op de rand, en de baslijnen van Soniano. 'Lenaé' is vervolgens pure melodische pracht. Opduvel zou zweren delen van de melodie al eens te hebben gehoord, zo herkenbaar, zo vertrouwd klinkt het stuk. En zo mooi.

'Lenaé' eindigt met slechts slagwerk en percussie, waarna 'Oude Steenweg' ook lange tijd een solo voor het slagwerk is, de titel van het stuk ten gehore brengend. Pas in de laatste minuut voegt een gitaar zich bij de drums. Die gitaar opent vervolgens het slotstuk 'Kat Kreupel', de afsluiter die op bedaarde wijze naar het einde toewerkt. Cools' werk op de cimbalen voorziet het stuk van spanning, terwijl de gitaren, kanklès en sax voor de muzikale schoonheid zorgen. Een passend einde van een wondermooi album.